SM101 Impacts & Explosions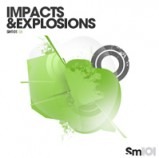 Some seriously massive explosion sounds.
An essential selection of 101 tension-busting bombs, impacts, slams and crashes built to slot seamlessly into almost every dance music genre, from techno and house through to dubstep and D&B.
Created Toby Emerson, one of the producers behind Sample Magic's best-selling Ultimate FX, Impacts & Explosions packs in some of the most powerful, spacious and detailed FX hits we've ever heard here at S2S.
From sub-rattling booms and apocalyptic impacts to fizzing hi-freq hits and punchy short slams, Impacts & Explosions has all your FX hit needs covered.
Sub-divided into folders of Huge, Light, Short and Sub Drops, the collection is intuitively created to help you find the perfect sound with the minimum of effort.
All samples are offered as industry-standard 24-bit Wavs.
Review from Future Music magazine
Paying £13 for what sounds like a fat bloke jumping into a swimming pool over and over again in slow motion may not sound like the bargain of the century but like that fat bloke, this package is packing a mighty punch.
The word 'apocalyptic' comes to mind as - time and time again - you're smashed in the ears with the end of the world. Mega swooshes, impossible brain-frying builds and burning, molten hi-frequency chaos ensues.
Why spend months of punishing synths and samples when £13 earns you enough ammo to launch a thousand euphoric drops. Play it loud and make the neighbours wonder just what the hell is going on in there?! Awesome. 10/10