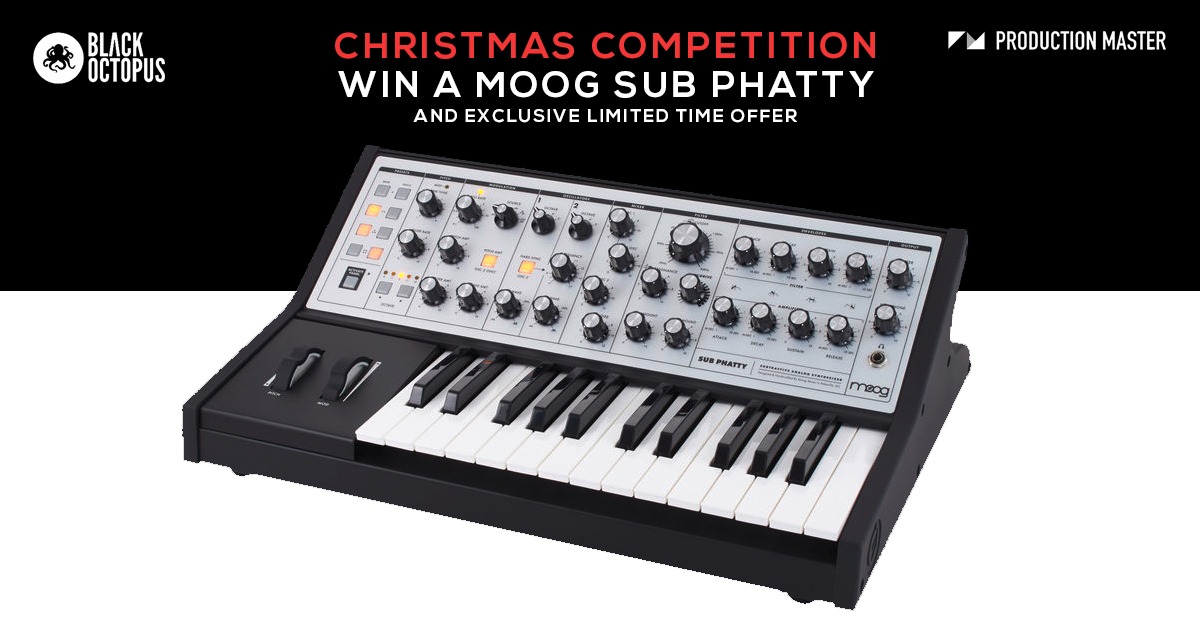 Sign up here to have a chance of winning a Moog Sub Phatty, the grittiest Moog Synth ever.
Black Octopus and Production Master, 2 of the biggest sample pack brands on the planet, decided to make it an extra special Christmas for you this year.  If you love electronic music, the Moog Sub Phatty will really put some oomph into your music. Moog Music's engineers have crafted the Sub Phatty's oscillators to perform with extreme accuracy and it honors the rich sonic density synonymous with Moog creations.
THE CONTEST IS NOW OVER CONGRATULATIONS ROBERT PICKENS FOR WINNING THE MOOG SUB PHATTY

The Sub Phatty is the first analog synth to feature Moog's transformative new Multidrive section; at low settings Multidrive adds warmth and girth, but when pushed, it delivers a screaming snarl that is highly reactive to resonance, waveshape, and oscillator level. Experiment with this new circuit and unlock an undiscovered world of vivid analog tonalities.
The mixer section offers innovations of its own, including a sub oscillator that outputs a square wave one octave below Oscillator 1. Use this powerful tool as a third oscillator for added depth, or to craft your own customized incarnation of monstrous Moog bass. Also in the mixer section is a noise generator voiced to deliver low-frequency content, rich with body and punch. If your goal is to sculpt analog percussion and sound effects, look no further.
The Sub Phatty features a wide range of parameters just below the surface, and all features are easily accessible from the instrument's front panel, or via the free standalone/plugin editor. Select filter poles, assign wave mod destinations, or specify pitch bend amounts — it's all there.
The Sub Phatty brings a fearless new voice to the Moog family of synthesizers. With its streamlined interface and dynamic sound design flexibility, this new synth fuses an unparalleled connection between human & machine, opening the door to unprecedented sonic exploration.
RULES
Only 2 entries per person.  Users entering with multiple e-mail addresses will be disqualified.
Black Octopus & Production Master staff & artists not eligible to win
Winner must be able to accept shipments from Amazon or Thomann
Shipping must not exceed $50 USD
Contest details such as winner announcement date subject to change at anytime
Winner must claim prize within 14 days.
Prize must shipped to address entered.
Winner will be selected by random draw on December 24th.