Description
Welcome to Bitwig Studio 3, the innovative music creation and performance software
A short list of what's new in Bitwig Studio 3, including new worlds of modular expression:
The Grid, a modular sound design environment sporting 154 modules and lightning-fast workflows
Poly Grid device: for creating synthesizers, sequenced patches, and more
FX Grid device: for creating audio FX with optional voice stacking
Automatic Project Backups, each time you re-save a project
Realtime Ruler, showing timelines in minutes and seconds
Ableton LINK version 3, supporting start/stop synchronization
Global GUI Contrast settings, making the interface pop on any monitor
Redesigned Instrument Inspector, offering polyphony, two mono voice modes, and more
VU Meters in Routing Choosers, showing the signal you are looking for
Reworked audio backends, sporting timing improvements on all platforms
Bitwig Studio is a dynamic software for creating and performing your musical ideas in the studio and on stage.
Here's a quick overview of what Bitwig Studio is all about:
A professional Digital Audio Workstation for Windows, macOS, and Linux
Super-fast workflow for sound design, recording, live performance, and beyond
A complete package with 80+ instruments and effects
Enjoy over 10 GB (and counting) of world-class sound content from Bitwig and selected partners
Out-of-the-box support for standard audio interfaces and controllers
A unique and highly flexible modulation system for unbound creativity
Excellent hardware integration
Bitwig Studio inspires you to take greater control of your music, giving you access to every aspect of your production. Streamline your creative process and quickly evolve your ideas into complete songs, tracks, and compositions. Record and arrange, improvise and perform, or do it all at once. Welcome to the next generation of music creation and performance software.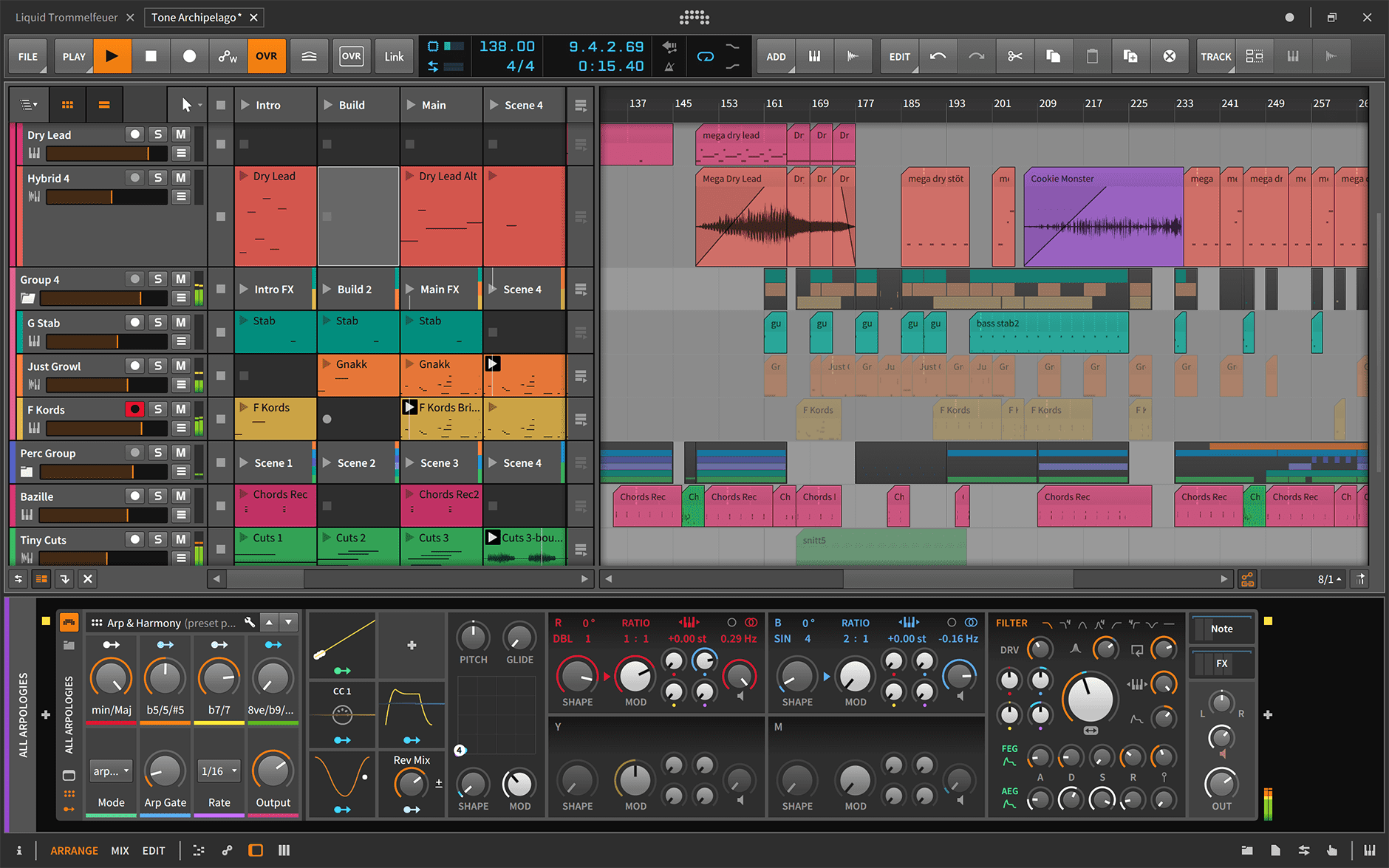 FLEXIBLE USER INTERFACE
Customized workflow to match any style.
Bitwig Studio features a flexible panel-based user interface; you choose what to see based on the task at hand. Switch effortlessly between three main layouts: Arrange, Mix, and Edit or see them all at once on up to three monitors.
DETAIL EDITOR
Your limitless creative space.
The Detail Editor optimizes audio editing by letting you make non-destructive edits within a clip. This allows you to stretch, split, pitch, pan, copy, reverse, add, move, and rearrange audio as you choose. Edit multiple tracks in the same view, isolate your view to one clip, or expand it to see everything in the entire track.
EXPRESSIVE MIDI SUPPORT
The most expressive DAW in the industry.
In addition to standard note editing features and per-note expressions such as Velocity, Gain, Pan, Timbre, and Pressure, Bitwig Studio features unique tools like micro pitch and sophisticated layered editing, and is a forefront runner in supporting MPE.
MPE stands for Multidimensional Polyphonic Expression. By supporting the MPE standard, Bitwig Studio is among the first DAWs capable of capturing and utilizing the precise features of the most advanced MIDI controllers on the market today, such as Roli Seaboard and the Linnstrument.
OPEN MULTIPLE PROJECTS
Limited to one idea? Think again.
The bassline from your last session could be the missing piece of your current project. The rhythm section in your latest song perfectly carries over to the next. No need to close anything or dig through complex file structures. With Bitwig Studio, open multiple projects at the same time and drag-and-drop between them.
FADES AND CROSSFADES
Your fast workflow, faster.
Create fades and crossfades for audio clips directly in the arranger timeline or audio editor. Additionally, you can create fades for audio events inside clips—for truly fast yet flexible editing. Naturally, the curve slopes of all fades can be adjusted.
Easily edit fades by hovering the mouse cursor over clip or event boundaries and then dragging the fade handle when it appears. Crossfades are automatically created when you move clips so they overlap.
HARDWARE INTEGRATION
We speak with your hardware.
Hardware integration is a large part of what makes Bitwig Studio unique. MIDI handling, note timing, and latency compensation are aspects of this. Other prominent features include MIDI Clock Sync and Ableton LINK. But where Bitwig Studio really stands out is our collection of hardware integration devices.
With Bitwig Studio you get a whole array of devices dedicated to controlling your external hardware, either via MIDI and CC or CV, Gate and Clock, sent directly to your audio outputs.
Read more about these devices on our device overview page…
TIME STRETCHING
Always in time, always sounding great.
Keep your audio material in time regardless of project tempo using Bitwig Studio's advanced time stretching. Let Bitwig Studio analyze and automatically stretch your audio, or take full control and use our advanced stretching and editing tools.
Bitwig Studio comes with 8 different time stretch algorithms to cover all your musical needs, including the renowned Zplane Elastique in four flavors.
ABLETON LINK SUPPORT
Effortless sync across ecosystems.
Since its release, Ableton LINK has changed how musicians sync workstations across technologies, and Bitwig Studio is part of the network.
Make Bitwig Studio the centerpiece—or cornerstone—of your production and performance setup. This new technology ensures everything is running in time and on the beat.
POP-UP BROWSER
Browse, Audition, Insert, Swap
The Pop-Up Browser makes auditioning and selecting Devices, Presets, VSTs, and Samples fast, intuitive, and inspiring. With powerful search, filter, and collection tools it's never been easier to locate, or discover, the sound you're looking for.
The Pop-Up Browser is nothing less than your own personal content management system.
VST PLUG-IN SUPPORT
Your VST collection will feel right at home.
Bitwig Studio plugs right into your existing setup. With modern software architecture, 32-bit and 64-bit VST plug-ins are natively supported, no third-party bridging necessary.
We also support the VST3 standard, with per-note expressions and sample-accurate automation.
PLUG-IN SANDBOXING
Damage control.
Never again will a single plug-in take down your entire project. The "sandboxing" feature built in to Bitwig Studio ensures plug-in crashes will not interrupt valuable production time, or your performance on stage. Bitwig Studio protects your workflow while efficiently running your VSTs for non-stop creativity.
TOUCH INTEGRATION
Music at your fingertips.
With a touch screen and the dedicated touch display profile, the full power of Bitwig Studio is literally at your fingertips. We've developed complete multi-touch functionality to quickly identify gestures for the most unique and intuitive workflow ever: multi-touch support, our unique radial gestures menu, touch keyboard, and pen control (Microsoft Surface Pro, Surface Book and Surface Studio).
OPEN CONTROLLER API
Control scripting with ease.
"Smart controller" takes on a new meaning in Bitwig Studio. Freely edit existing control scripts direct from the companies that design your controllers, or create your own. Get the most out of your gear with hands-on control of the parameters that mean the most to you, and take full advantage of every pad, knob, button, and key at your fingertips.
WAIT, THERE'S MORE…
Other notable features
32-bit floating point audio processing
Audio sample rate up to 192 kHz
Retina/High DPi display support
Audio import: WAV, MP3, OGG, FLAC
Bounce and Bounce in Place
Unlimited Audio-, Instrument- and Effect Tracks
Fully customizable keyboard shortcuts & action mappings
Fast and flexible MIDI mapping tool
Audio and MIDI export
Choke groups
Scalable vector based GUI
Hybrid Tracks
Project Templates
Clip- and Track automation
Tracks, Chains, and Devices can be deactivated to save CPU power
Plug-in Delay Compensation
Jack support including Jack Transport on all platforms
Micro Pitch in Note Editor
7 Display Profiles for up to 3 monitors
Dynamic menu system
Smart tool switching
Built-in help section
Dashboard with easy access to projects, settings, and other resources
Requirements
5 GB free disk space required.
Minimum 1280 x 768 pixel screen resolution.
Minimum 2 GB RAM, 8 GB recommended.
Multicore CPU. Windows 7 or later.
Mac OS X 10.7 or later, 64-bit CPU
Linux Ubuntu 12.04 or later, 64-bit CPU.
Windows 7, 8, 10, 64-bit CPU