Description
FUSING MUSICAL INSTRUMENTS AND SOUND EFFECTS TO CREATE FASCINATING SCORES
From the frozen reaches of the North, icy spirits reach out across the eternal expanse to seize the listener in their song. NORDIC SPHERES captures the frosty tone of the ancients, a transportive granular instrument that creates rough, pulsating atmospheres echoing through time and desolation.
NORDIC SPHERES features an unpolished, ambient sound perfect for creating ambiences as palpable as a thick fog
NORDIC SPHERES blends layers of musical spheres and sound effects together with easy but complex arpeggiators
With NORDIC SPHERES, freeze forlorn, mysterious scores in the tracks of modern cinematic music
NORDIC SPHERES seizes the essence of the beautiful Icelandic nature: from almost infinite icy fields to the fiery horrors of volcanic rage.
MUSICAL SOUNDSCAPES OF ICE AND SNOW
NORDIC SPHERES is a Kontakt instrument that creates vast, frozen soundscapes and musical spheres using a combination of rich, sound effects content, granular synthesis, and percussive sounds. We worked with Mats Lundgren and Amina Hocine from Sweden-based Pole Position to create a treasure trove of rich tonal and non-tonal audio from a wealth of creative sources. Mats' recordings combined with our layering and arpeggiator possibilities have created a truly inspirational instrument.
The sonic sibling of TIME TEXTURES and CHROMA, it is perfect for composers and producers who want to experiment with both sound design and music.
THE BLISS OF NUMBNESS
NORDIC SPHERES was created from a variety of mangled atypical tonal and non-tonal sounds and effects, mixed together like crashing glaciers. There are four layers from which to build an intricate texture, each with its own ADSR, arpeggiator, and FX options that include EQ, saturation, chorus, and tremolo.
SLIDING WITH THE GRAIN
NORDIC SPHERES was designed with great glacial movements in mind. Our Grain Engine was the natural choice to achieve this, so that, like snowflakes, no two sounds are ever the same. Meanwhile, our advanced arpeggiator engine allows for complex weaves to float through the sonic spectrum, while the modulation knob controls any number of motion FX.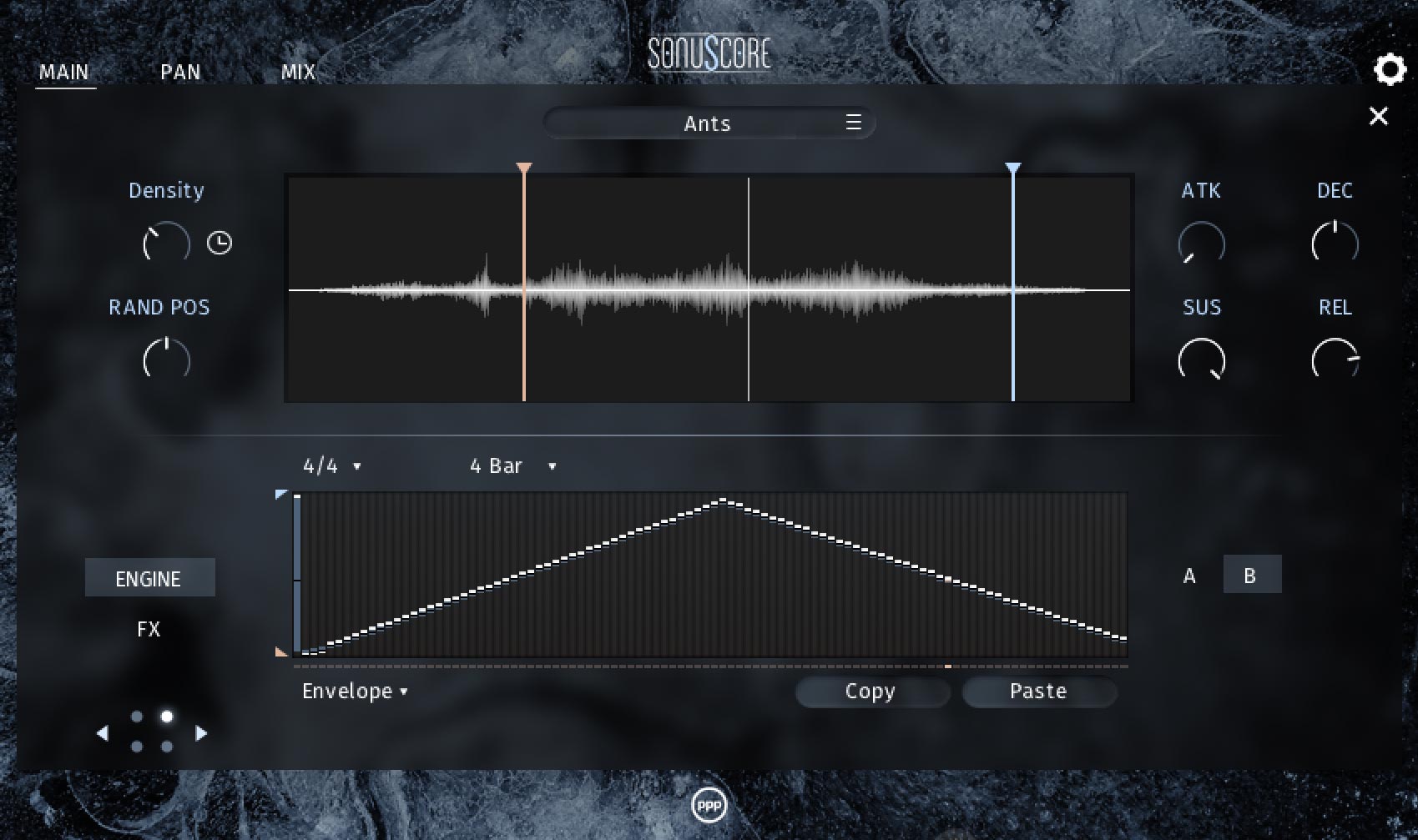 FROM ICY TONES TO VOLCANIC RAGE
With our Motion options in each FX grid, tie the FX to the modwheel, allowing you to drastically change the timbre, from icey detachment to burning rage. Use the presets to discover the kinds of changes that you can scrape out, and guide your sounds to whole new spectrums by the interplay of grain, particle, and pad.
SYSTEM REQUIREMENTS
Works with the FREE KONTAKT PLAYER
KONTAKT Version 6.7.1 or higher
macOS 10.14 or higher
Windows 10 or higher
8GB RAM (more recommended)
At least 8.5 GB of free hard disk space. SSD hard disk recommended.
Be advised that some presets of NORDIC SPHERES need a fast CPU to run smoothly and require an Intel i7 processor or higher.
KEY FEATURES
Unpolished, ambient sound fusing musical instruments and sound effects
Truly inspirational instrument, powered by Sonuscore's highly-acclaimed engine
4 independent sound layers to shape incredible soundscapes and melodies
More than 200 carefully crafted presets
Sound effects content & granular synthesis
Full mod wheel support of its unique core engine
Powerful motion engine to drastically change the timbre