Description
X-Limit
Precision loudness control for tracks and busses
X-Limit is a versatile audio limiting tool that allows artists, producers, and engineers to increase the loudness of tracks and busses quickly and effectively, without clipping or changing tonal balance. X-Limit can easily control peaks and tame unwanted transients, creating full and dynamic recordings – perfect for crafting loud mixes with subtlety and emotion.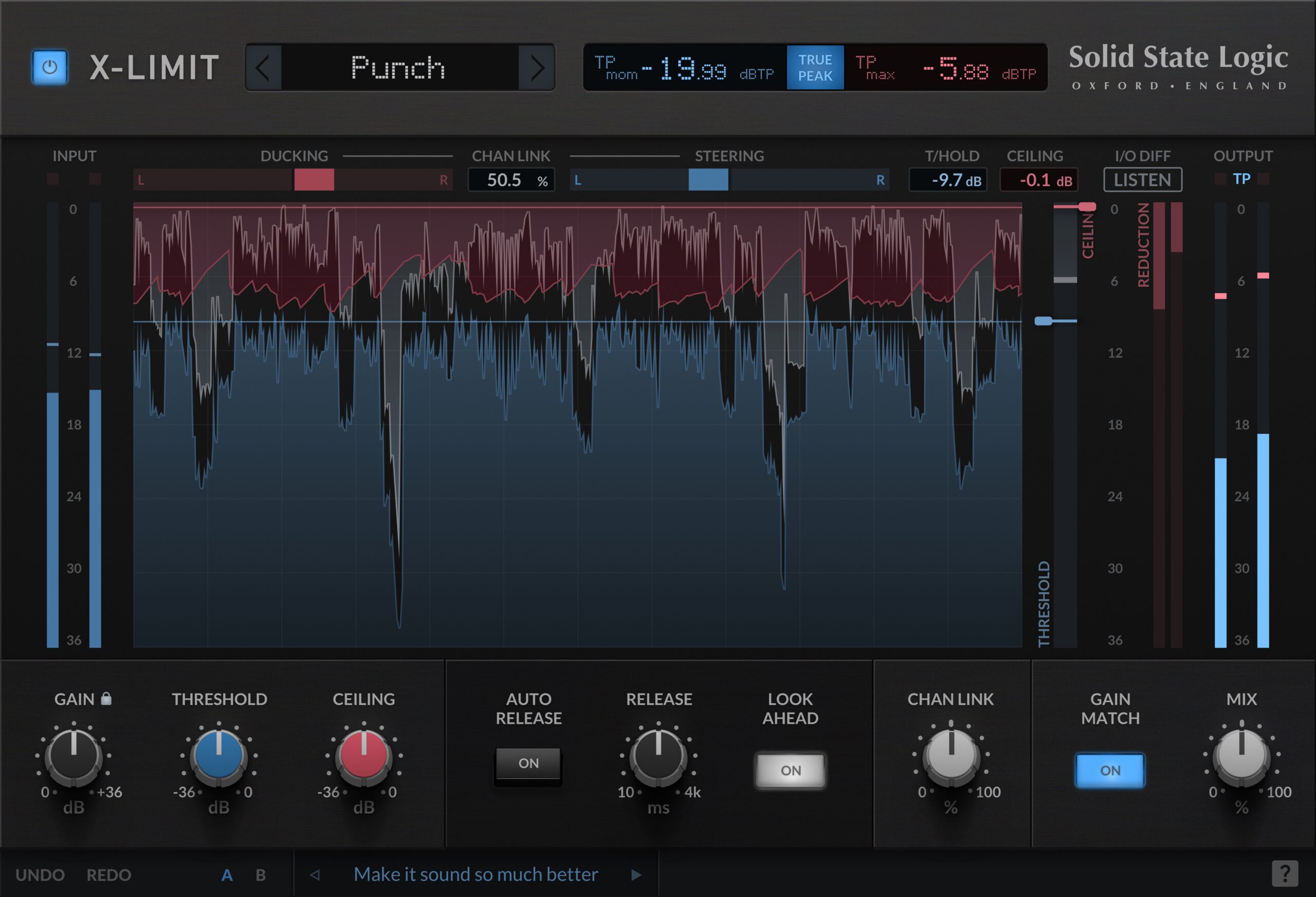 Featuring 4 characteristics ranging from extremely transparent to colour and glue, variable release times with renowned 'Auto' release, and True Peak + Lookahead algorithm for precision processing. X-Limit can be used as an invisible loudness enhancer or as a colourful limiter to add character and vibe. Its intelligent algorithms introduce minimal latency regardless of settings, making it suitable for tracking and live performance applications.
The unique steering and ducking meters indicate how the limiting process might influence the stereo image of your signal, and to provide feedback on minimising stereo degradation using the channel link control. The all-in-one waveform and threshold display lets you easily set your threshold and ceiling against the incoming signal level.
Key Features
Apple M1 native support – X-Limit is a universal binary, and features M1 Native support.
All-in-one visualiser – The all-in-one waveform visualiser and threshold/ceiling sliders let you easily set parameters against the incoming signal level.
True Peak – True Peak mode engages SSL's True Peak algorithm – ensuring that inter-sample peaks are effectively limited and providing momentary and max True Peak value readouts.
Channel Link – The Ducking and Steering meters provide intuitive visual feedback the effect of limiting on the stereo: guiding you towards the ideal amount of channel linking for minimum stereo degradation.
Styles – Pick from 4 carefully designed limiter characteristics – Transparent, Glue, Punch and Auto – for quick but versatile options to suit every occasion.
Gain Lock – Easily lock the applied gain to quickly demo different presets and styles on your source material.
Mix Control – When using the limiter to add punch rather than catch peaks, use the Mix control to easily dial back the effect. Note that this means your signal will exceed the ceiling, since it blends with the original unprocessed signal!
System Requirements
Mac
macOS Catalina (10.15), Big Sur (11), Monterey (12)
M1/ARM or Intel Dual Core Mac running at 2.4GHz or higher
4GB of RAM minimum, 8GB preferable
AU, VST2, VST3, AAX Native
Windows
Windows 10 (64-bit), 11 (64-bit)
Intel Core 2 (or comparable) CPU running at 2.4GHz or higher
4GB of RAM minimum, 8GB preferable
VST 2 (64-bit), VST3 (64-bit), AAX Native (64-bit)