Description
Experience one of the world's most iconic studios in your DAW
Few studios in the world have contributed as much to the sonic imprint of music culture as Los Angeles' Sunset Sound Studio.
T-RackS Sunset Sound Studio Reverb lets you step inside Sunset Sound studios, capturing the sonic mojo of each one of these echo chambers, live rooms, booths, plates and springs, as well as the unique vibe of their custom consoles and classic mic collection.
It's the closest thing to tracking your session in this hall-of-fame studio itself.
Key Features
Captures the acoustics of the iconic Sunset Sound studios
Includes each studio's live room, iso booth and 3 echo chambers
Includes two plates and one spring reverb, all original vintage units
IK's proprietary Volumetric Response Modeling (VRM™) technology gives you ultra-realistic sound spaces
Variable room dampening and multiple microphone positions
Console preamp and signal path modeling add the exact harmonic content of the studio gear for warm, lush reverberation that goes beyond classic convolution reverbs
Pre Delay & Decay Time controls, EQ and mic options
Dry & Wet signal level controls with solo buttons
Works as a single plug-in or inside T-Racks 5
The sound of music history
Sunset Sound Recordings was opened in 1958 by Tutti Camarata, then director of recording for Disney Studios. The space's slanted floor and uneven walls gave it ideal acoustics, and soon the studio was busy recording Disney classics like "Mary Poppins".
By 1962, Sunset Sound was welcoming artists like the Doors, Joe Cocker, the Rolling Stones, Neil Young, the Beach Boys, and Led Zeppelin. Since then artists from all genres have kept Sunset busy: Van Halen, Toto, Prince, Bob Dylan, Tom Petty, Whitney Houston, the Doobie Brothers, Miles Davis, Elton John, Alanis Morissette, Smashing Pumpkins, Sheryl Crow, Rage Against The Machine, Audioslave, Ryan Adams, Beck and more.
Today, the live rooms, vocal booths and echo chambers of Sunset Sound have become a part of the fabric of popular music itself. That's why IK Multimedia and current studio owner Paul Camarata wanted to give all musicians the chance to add a little of Sunset's magic to their tracks.
A complete studio complex in a single plug-in
T-RackS Sunset Sound Studio Reverb gives you a total of 12 spaces, with 3 echo chambers, 3 live rooms and 3 vocal booths, plus vintage EMT and Echoplate plate reverbs and an AKG spring reverb still in use at the facility today, giving you a full suite of reverb effects in a single plug-in.
Timeless gear, pristinely preserved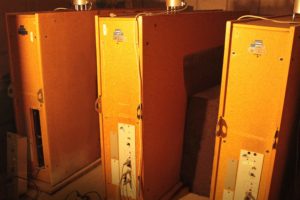 In addition to the rooms and chambers, T-RackS Sunset Sound Studio Reverb also offers two of Sunset's vintage plate reverbs, an EMT 140 and Echoplate, as well as their AKG BX-20E spring reverb. IK chose the best-sounding of Sunset's units, adding that classic, vintage hardware reverb sound and giving you a comprehensive set of reverb types in a single plug-in.
The sound of the hits, exactly as recorded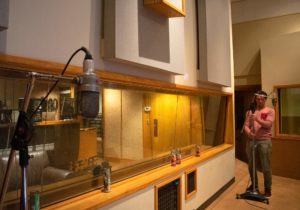 IK worked hand-in-hand with Sunset's engineers, poring over decades of session sheets to recreate the mic positions and placement that ensure all of the rooms and spaces sound just as they did on countless hit records. We recreated the exact placement and options used in these sessions, making it faster and easier to dial in the sounds you want.
The deepest level of authenticity
To capture both the unique acoustics of each studio, IK used its unique Volumetric Response Modeling (VRM™), an advanced hybrid convolution technique, to deliver the highest-quality reverb effects possible, and ensure the results of T-RackS's processing were indistinguishable from recordings made in the real rooms.
Iconic consoles for iconic spaces
Beyond using Sunset's extensive vintage mic locker, IK used award-winning physical modeling to recreate each studio's unique consoles (an API-based Sunset Sound custom, a Class-A-Discrete NEVE 8880, an API/DeMedio Sunset Sound Custom) preamplifier and signal path, to add the perfect harmonic content and sonic signature. This makes the reverbs sound completely authentic and will make you feel you're behind the boards running a session yourself.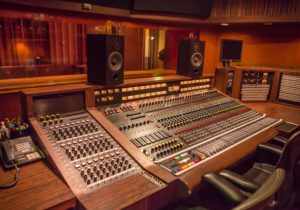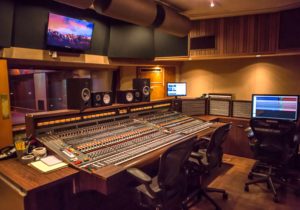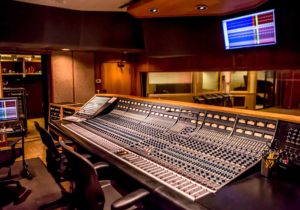 Convenient tone shaping
T-RackS Sunset Sound Studio Reverb offers all the necessary controls to shape your spaces including reverb time, width and frequency controls, microphone controls (left, right, or both) and accurate leveling/monitor of the mixed signals.
The power of T-RackS
Like all T-RackS plug-ins, T-RackS Sunset Sound Studio Reverb offers you two ways to work: as a single plug-in, or inside the T-RackS 5 shell.
The T-RackS shell offers a unique, modular system with up to 16-processor chains, series & parallel routing, easy A/B/C/D comparison, up to 192 kHz / 32-bit floating-point processing and much more, in both a plug-in and stand-alone mastering application.
The magic of Sunset Sound
Captures the acoustics of the iconic Sunset Sound studios
Includes each studio's live room, iso booth and 3 echo chambers
Includes 3 plates and spring reverbs
Captured using IK's cutting-edge Volumetric Response Modeling (VRM™) technology
Cutting-edge features
Ultra-realistic sound
Pre Delay & Decay Time controls
High-pass, low-pass filters, high & low shelving EQs
Mono or stereo mic selection, plus width control
Dry & Wet signal level controls with solo buttons
A part of the T-RackS Custom Shop
Use as a single plug-in or part of the T-RackS 5 Shell
64-bit native support
32-bit 192 kHz support
T-RackS Custom Shop integration