Description
OB-E – AN OCTAPHONIC SONIC ADVENTURE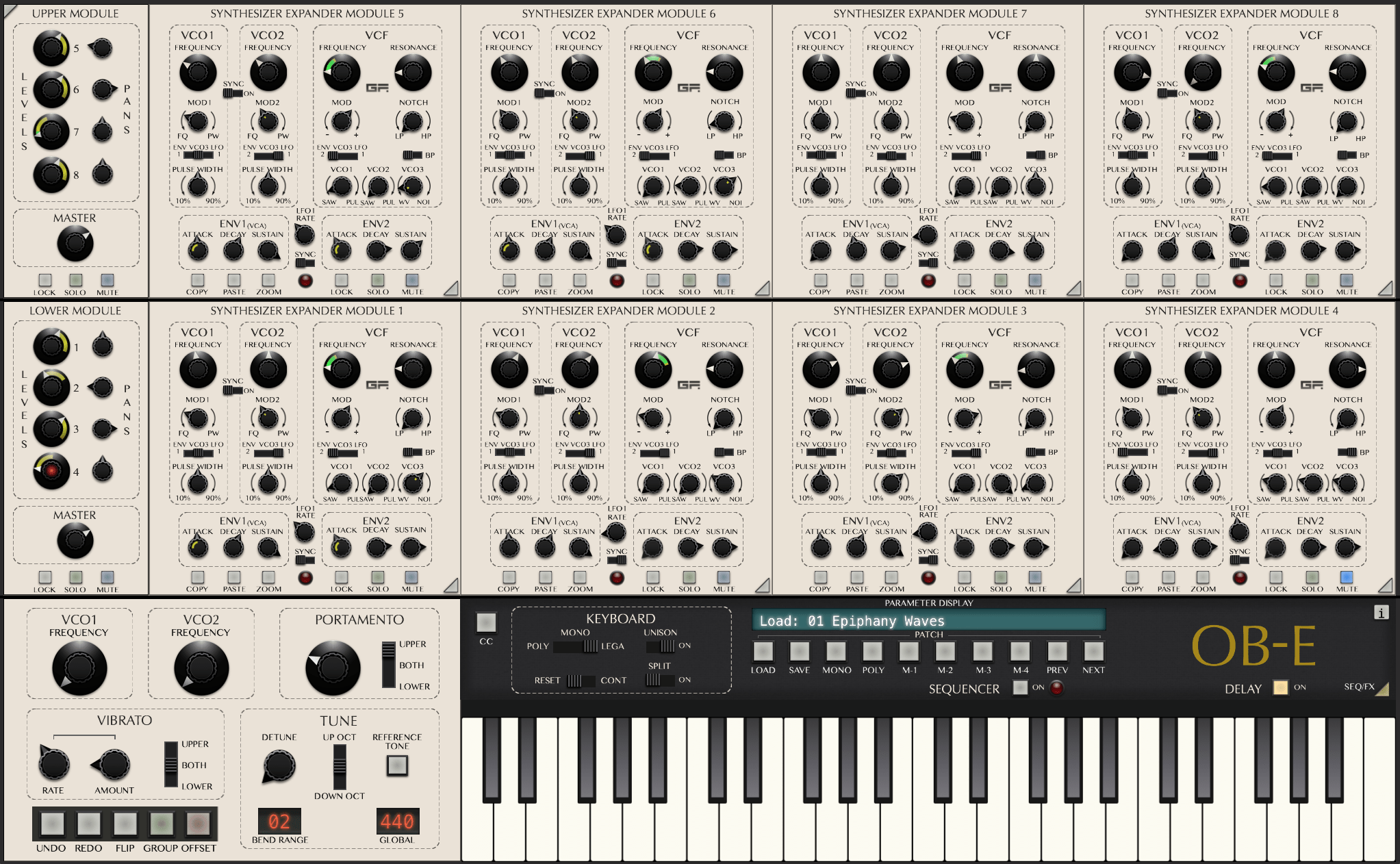 OB-E is our take on the legendary 8-Voice. More than just an emulation, OB-E offers a unique musical experience. Sounding HUGE, it takes the iconic Synthesiser Expander Module based 8-Voice (a.k.a the EVS) into new sonic territory via a raft of enhancements and additions.
The concept of the 8-Voice is actually very simple; based around a single Module containing two VCOs with Pulse and Sawtooth waveforms, two ADS Envelope Generators, one LFO, and a magical Multi-Mode Filter. In isolation eac Module is monophonic, but in the 8-Voice, because there are eight Modules triggered by a polyphonic keyboard, you have a superb eight note polyphonic synthesizer.
While simple at heart, OB-E is, to our knowledge, the first virtual instrument with complete per-voice control. This unique Octaphonic architecture offers fresh and exciting creative possibilities to music producers, composers and sound designers for the first time in the digital realm.
NEW IN OB-E v2 (Now macOS & Windows)
The enhanced OB-E v2 is a pin sharp emulation of the Oberheim® 8-Voice thanks to the new Vintage control and a highly refined Detune parameter. In addition, it's now available for both macOS and Windows. OB-E v2 features a new reverb, 100+ new Patches (bringing the total to over 700), a new Zoom function for  the sequencer along with a crazy new Drum Mode enabling each SEM to be triggered by a dedicated key. We've also added 10 drum kit Presets to get you started. If you are looking for a new analog drum machine, give it a go, it might surprise you.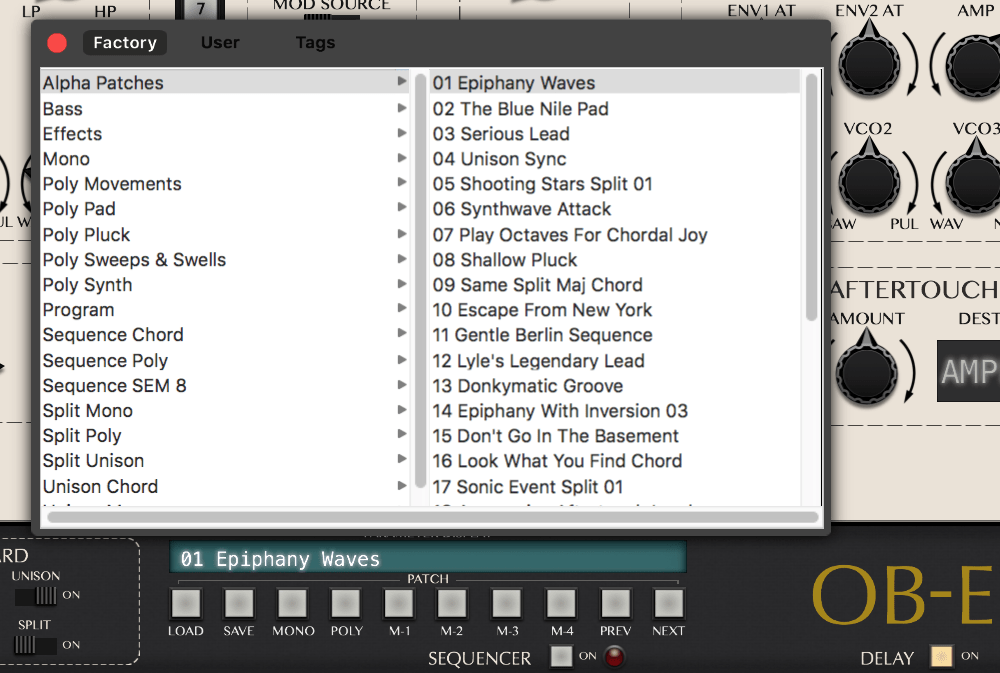 PATCH SELECTION
600 factory Patches saved in various categories and with tags.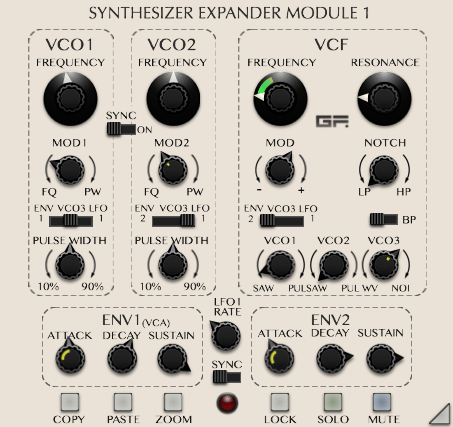 THE MODULE – FRONT
The core building block of OB-E is the Synthesizer Expander Module. Each Module has 3 Oscillators, a Multimode Filter, 2 Envelopes and modulation controls.
THE MODULE – REAR
Each MODULE has both front and rear panels. The rear of each allows us to extend the range of functions programmable in each Module.
MIXER MODULES
OB-E groups Modules 1-4 into the LOWER MODULE mixer and Modules 5-8 into the UPPER MODULE mixer. Individual volume and pan for each Module can be set here along with a MASTER control for each group.
ZOOM
ZOOM a Module to enlarge the interface for detailed editing. ZOOM places the front and rear of the selected Module side by side within OB-E.
We've painstakingly emulated every section of the synth to create an authentic sounding instrument with the convenience of software control over those eight modules. Mono, Poly, Unison, Split, it's all yours now. Add to this a new third oscillator that doubles as LFO, a new LFO per voice, and a stack of additional performance controls via velocity, polyphonic aftertouch and MPE control and you'll begin to understand the depth of musical possibilities OB-E provides.



ZOOM AND GROUP MODE FOR FASTER EDIT
Programming a polyphonic Patch on an original 8-Voice was a daunting mission, OB-E makes it a cinch. Unison Chords a forté. To overcome the arduous task of editing 8 individual modules, OB-E provides a number of clearly-thought out editing controls such as Zoom which zooms on a specific module and its rear panel, Group (shown above) which enables a Synthesizer Expander Module parameter change to be applied to all Modules at once, and Offset modes as well as a resizable user interface. While it possible to save OB-E preset, it is also possible to save and reload each single Module as a preset, copy-paste them in between each Module or lock a Module to prevent changes from being applied to it (even when loading a new patch)
UI SCALING
Via the little yellow triangle in the top left hand corner of the UI,
OB-E allows you to scale the size of the user interface for both reduction and enlargement.
GLOBAL CONTROL
OB-E offers a range of Global Controls including the all important GROUP edit mode. When GROUP is selected, the parameters knobs of OB-E glow green indicating that editing one parameter on any Module is mirrored across all Modules.
KEYBOARD CONTROL
OB-E plays in multiple keyboard modes including mono, polyphonic & unison. The keyboard can be 'split' with notes lower than the split playing Modules 1-4 and above the split Modules 5-8. Additionally, Module 8 can be allocated to the SEQUENCER giving 3-way playback possibilities within a single Patch.
SEQUENCER
The OB-E SEQUENCER contains an extensive range of controls and functions. It triggers either monophonically or each Module in sequentially.
DELAY
OB-E analogue style delay which can be routed to upper, lower or both Module groups.
CREATIVE SEQUENCER & STEREO DELAY
And that's not all! With the original MS-1 sequencer as a starting reference point, we've added an extremely comprehensive and creative 8-step Sequencer (shown on the right above) providing a flexibility and fun-factor unavailable via the original hardware. In keyboard Split mode with the Sequencer routed to Module 8, OB-E provides the ability to create a complete three part soundscape from a single Patch. An all-new routable Stereo Delay provides sonically complimentary effects.
SUPERB SOUNDS
Finally, we've complemented our instrument with 600+ factory patches designed by Dave Spiers and a roster of brilliant sound designers. Even better, each patch has been tagged, categorised and is quickly accessible from OB-E's librarian (arrow navigation friendly).
ARTIST'S OPINION
I'M IN LOVE!!! THIS IS THE BEST SYNTH I'VE EVER USED IN MY LIFE. IT REALLY IS.
Compatibility
Mac: Standalone Application, AudioUnit, AAX, VST and VST3
PC: Standalone Application, AAX, VST and VST3
Oberheim OB-E v2 – key features
[New] 100+ New presets

[New] Vintage knob & Refined Detune parameter

[New] Matrix Reverb

[New] Drum Mode and 10 drum kits presets

[New] PC support, VST3 and Apple Silicon Native

[New] Sequencer Zoom

[New] Flexible scaling UI

A sonically authentic emulation of the Oberheim

®

8-Voice

700+ factory Patches designed to fit in a mix, all tagged and categorised

Librarian for easy access to the presets (Arrow Keys Navigation)

ZOOM to enlarge an individual SEM filling the UI with front & rear panels side by side

Group and Offset modes to edit all SEM

s

at once

Individual SEM Copy/Paste/Save

Upper/Lower SEMs can be Split across the keyboard

Multi-faceted analogue style sequencer

Extensive Velocity & Aftertouch modulation, Pan and Volume per SEM

Polyphonic aftertouch and MPE.