Description
ODDITY3 – BOLD, BRASH AND BEAUTIFUL.
When the original GForce Oddity was released all the way back in 2002, it was heavily praised by fans and critics alike for its incredibly accurate representation of the revered ARP® Odyssey, with some notable users even calling it their desert island synth. Now, twenty-one years later, we've updated this classic to make it the most authentic, powerful and modern odyssey available.
Oddity3 takes the character and sound of Oddity and adds a wave of enhancements, bringing the spirit of the original to a new generation of music makers. With a powerful new Preset Browser and 1250+ presets including 250+ new ones, new Distortion and Reverb effects, a Vintage control for dialing in authentic imperfections, and four programmable Macros, plus new and improved performance controls, this classic desert island synth just got even better.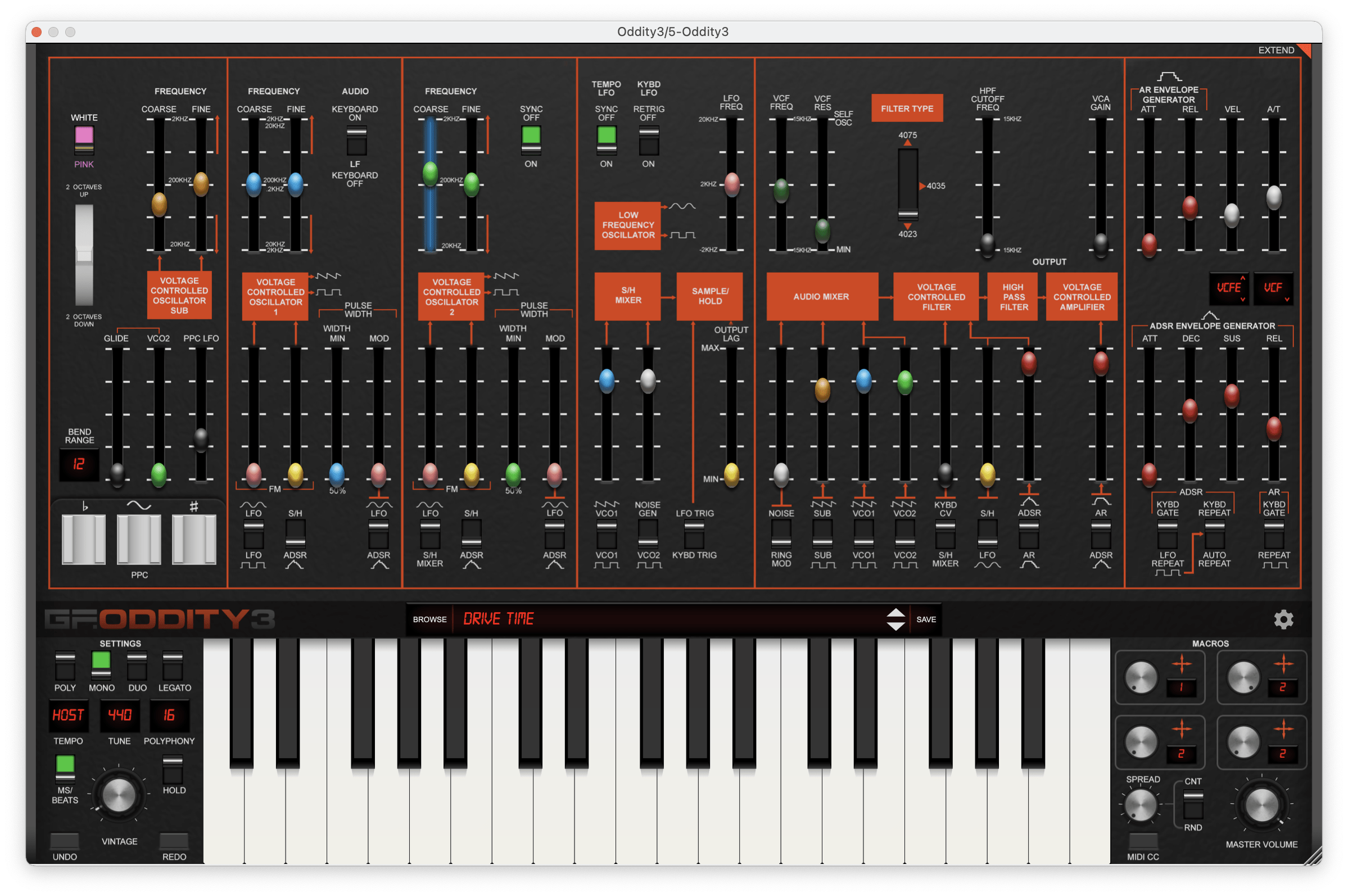 KEY FEATURES
Analog modelling of a bonafide classic
[New] 250+ new presets for a total of 1250+ presets (all tagged and categorised)
[New] Powerful Preset Browser
[New] Distortion & Matrix Reverb effects, with updated Delay
[New] Vintage knob for authentic analog imperfections
[New] Four programmable Macros for easy manipulation of sounds
[New] Programmable Aftertouch and expanded Velocity controls for extra playability
[New] Fully-scalable UI with three authentic skins
Monophonic, Monophonic Legato, Duophonic and Polyphonic modes
4023 (12dB), 4035 (24dB) and 4075 (24dB) lowpass filter types from all three original models, plus highpass filter
Two syncable Oscillators plus tunable Sub Oscillator
Vast modulation options via X-Modifiers
Authentic Ring Modulator
Pan spread for wide stereo sounds
AN ODYSSEY FOR THE 21ST CENTURY
With the sound and character of the original hardware at its core, Oddity3 gives a classic synth a new lease of life. Authentic models of all three original filters, two syncable oscillators, an accurate recreation of the legendary ring modulator, AR and ADSR envelopes, and much more, we've spent countless hours ensuring that Oddity3 still provides a faithful and accurate recreation of one of the most highly revered synths ever.
Over the years we've enhanced these original features extensively, adding monophonic and polyphonic playability, a tunable sub oscillator, our unique X-Modifier technology, onboard effects and voice panning. Now, Oddity3 adds a raft of new features and improvements – a powerful new Preset Browser, expanded performance controls with programmable Macros, Velocity and Polyphonic Aftertouch, a Vintage knob for adding analog-style imperfections, new Distortion and Reverb effects, and more.
All of this gives Oddity3 an authentic experience that feels at home in a modern setup.
ARTIST'S OPINION
THIS HAS TO BE ONE OF THE MOST POWERFUL SYNTHS OUT THERE, AND IS FAST BECOMING MY GO TO PLUGIN. IT SOUNDS UNREAL.