Description
AI Machine Modeled tone creator, player, browser
Standalone application and plug-in to create, play and share Tone Models
Model amps, cabinets, combos and pedals (distortion, overdrive, fuzz, EQ or boost) using regular studio gear in as little as 5 minutes per model
Browse, search, demo thousands of Tone Models covering a massive range of sought-after gear on ToneNET
Upload your own Tone Models on ToneNET to share with other TONEX users for free
Available as a free version plus 3 affordable versions to expand your tone collection
Use Tone Models to practice, jam or record inside your favorite DAW, or use them on your mobile device with TONEX App
Experience hyper-realistic Tone Models
A revolutionary concept in rig modeling, and the core of the TONEX ecosystem, TONEX software uses breakthrough AI Machine Modeling™ technology to let you model the sound of any amp, cabinet, combo or pedal, and turn it into a plug-in, all with a sonic accuracy that's virtually indistinguishable from the real thing. You can instantly play up to 1,000+ Tone Models already available plus browse, demo and download the growing number of Tone Models available on TONEX in ToneNET.
From rare one-of-a-kind vintage amps to modern rigs, TONEX makes it possible and affordable to own the most sought-after gear in the world.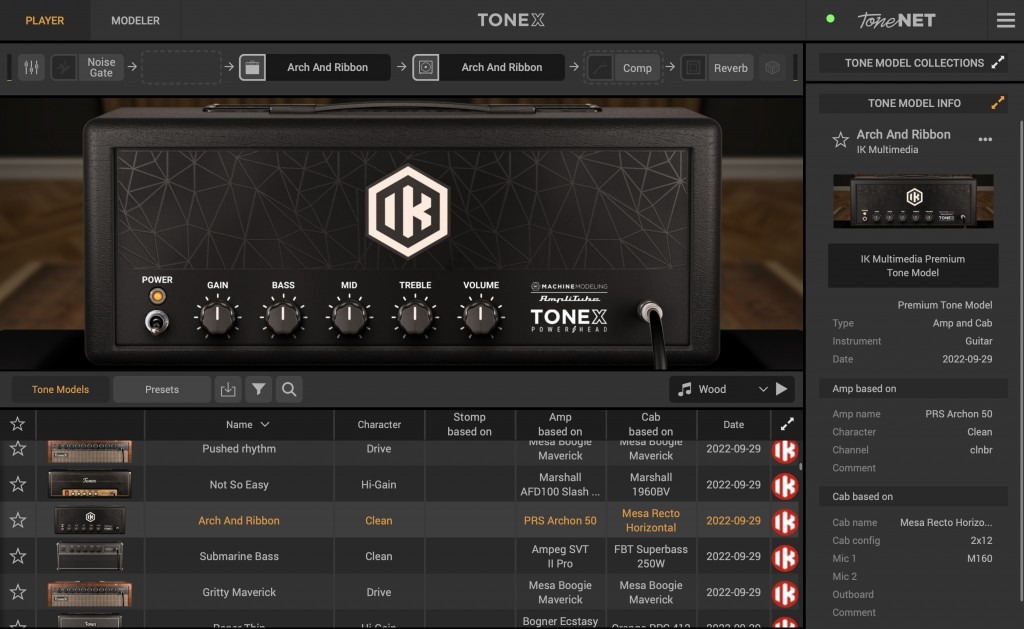 TONEX Tone Modeling features
Model amps, cabinets, combos and pedals (like distortion, overdrive, fuzz, EQ or boost) in any combination, from single element to complex rig
Built-in assistant guides you through each step from hardware connection to complete modeling
Assign custom skins to your modeled gear and open them as a plug-in or standalone inside the TONEX software and app, or AmpliTube 5 for Mac/PC
Create Tone Models in minutes (as fast as 5 minutes on modern computers*) using AI Machine Modeling technology with selectable levels of accuracy
Ultra-precise reproduction of high-frequency content with no aliasing whatsoever
Works also as an IR creator or you can use the built-in VIR™ cabinets with multiple IRs per cabinet
Modeler
Harness the power of IK's advanced AI Machine Modeling technology to turn your rig into virtual models of amps, cabs and pedals (distortion, overdrive, fuzz, EQ and boost) or entire rigs, in any combination.
TONEX uses a specially prepared audio file of actual guitar and bass signals, not just test tones, to capture your rig in true-to-life detail. Then TONEX's neural network computes the machine modeled tone in minutes. The result is a virtual model that sounds indistinguishable from the real rig, to be used in TONEX software and app.
Add your custom skin and keywords to your Tone Models, then upload and share them with other TONEX users in ToneNET with just one click.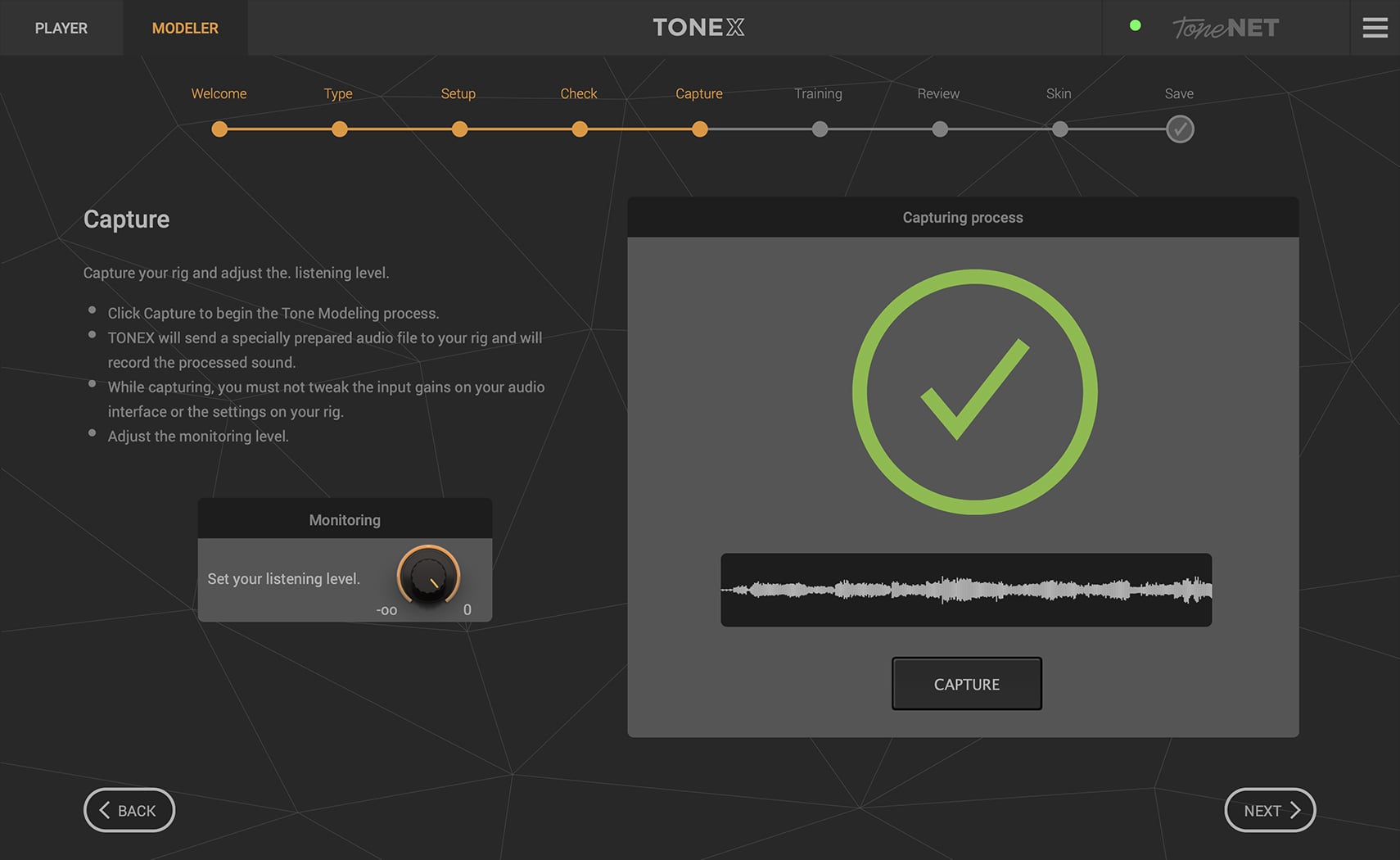 *Suggested Computer Requirement:
Mac Big Sur (M1 or newer CPU recommended)
Windows 10 + GPU NVidia
Training time: 5 – 10 min on suggested computers.
See complete computer requirements here.
Player/Editor
Standalone and plug-in
TONEX Player offers an intuitive, easy-to-use workflow to keep you in your creative zone. Play, practice and record as a standalone or plug-in inside your favorite DAW, or directly inside AmpliTube 5. Always have the best possible tones right at your fingertips.
Looking for more inspiration? Use the advanced search feature to browse through a massive library of the most sought-after amps, pedals and rigs, including one-of-a-kind models that will elevate your tone to the next level.
TONEX in AmpliTube 5
TONEX works seamlessly inside AmpliTube 5 adding a multitude of ways to further customize your tone for recording and live performance.
Tone Models function just like other AmpliTube amplifiers, cabs or pedals. They can be used alongside any gear models you own to build custom signal chains and save as presets for easy recall and sharing on ToneNET.
The combination of TONEX and AmpliTube 5 represents the most advanced tone powerhouse on the planet today.
TONEX in ToneNET
Thousands of Tone Models are available in the new TONEX section in ToneNET, IK's online tone-sharing platform for AmpliTube.
These Tone Models can be accessed directly from TONEX software where you can instantly search, filter, demo and download user Tone Models – or explore them via your regular web browser.
Online you can explore user Tone Models and select the ones you like, so the next time you open TONEX software they'll be available for instant download on your computer. New Tone Models are posted continuously by IK and TONEX users, and are immediately listed on the TONEX section of ToneNET making it an ever-expanding, limitless repository of the world's best tones.
TONEX Versions
To start experiencing the power of TONEX, just download the free CS version of the software. This includes 20 must-have Tone Models and your choice of 20 user-created Tone Models.
Then to experience more Tone Models, simply choose one of the 3 available versions below that best suits your needs and budget.
You'll have immediate access to the number of Premium Tone Models included in your version. You will also be able to download unlimited Tone Models created and shared by other users. Once you download Tone Models, whether Premium or user, they're yours forever.
There has never been a more convenient and intelligent way to experience the world's most incredible
tones than with TONEX.
TONEX SE
200 included Tone Models
20 Amps / 10 Pedals
Unlimited Tone Model creation
Unlimited User Tone Model downloads
TONEX
400 included Tone Models
40 Amps / 20 Pedals
Unlimited Tone Model creation
Unlimited User Tone Model downloads
TONEX MAX*
1000 included Tone Models
100 Amps / 50 Pedals
Unlimited Tone Model creation
Unlimited User Tone Model downloads