Description
iZotope Neoverb is the most intelligent reverb plug-in for music producers. Get to an exciting starting point with Reverb Assistant and create the space you want with the intuitive Blend Pad to mix rooms, plates, chambers, and more.
Introducing Neoverb
A new real-time Reverb Assistant guides you in selecting and blending reverbs according to your creative needs. An AI-powered EQ section listens to your audio and helps you avoid artifacts, mud, and masking. Explore a deep Advanced panel and dozens of presets for vocals and instruments, and add your personal touch. Whether you're a new producer honing your a craft, or a veteran on your latest project, Neoverb will help you get to a great reverb sound in less time.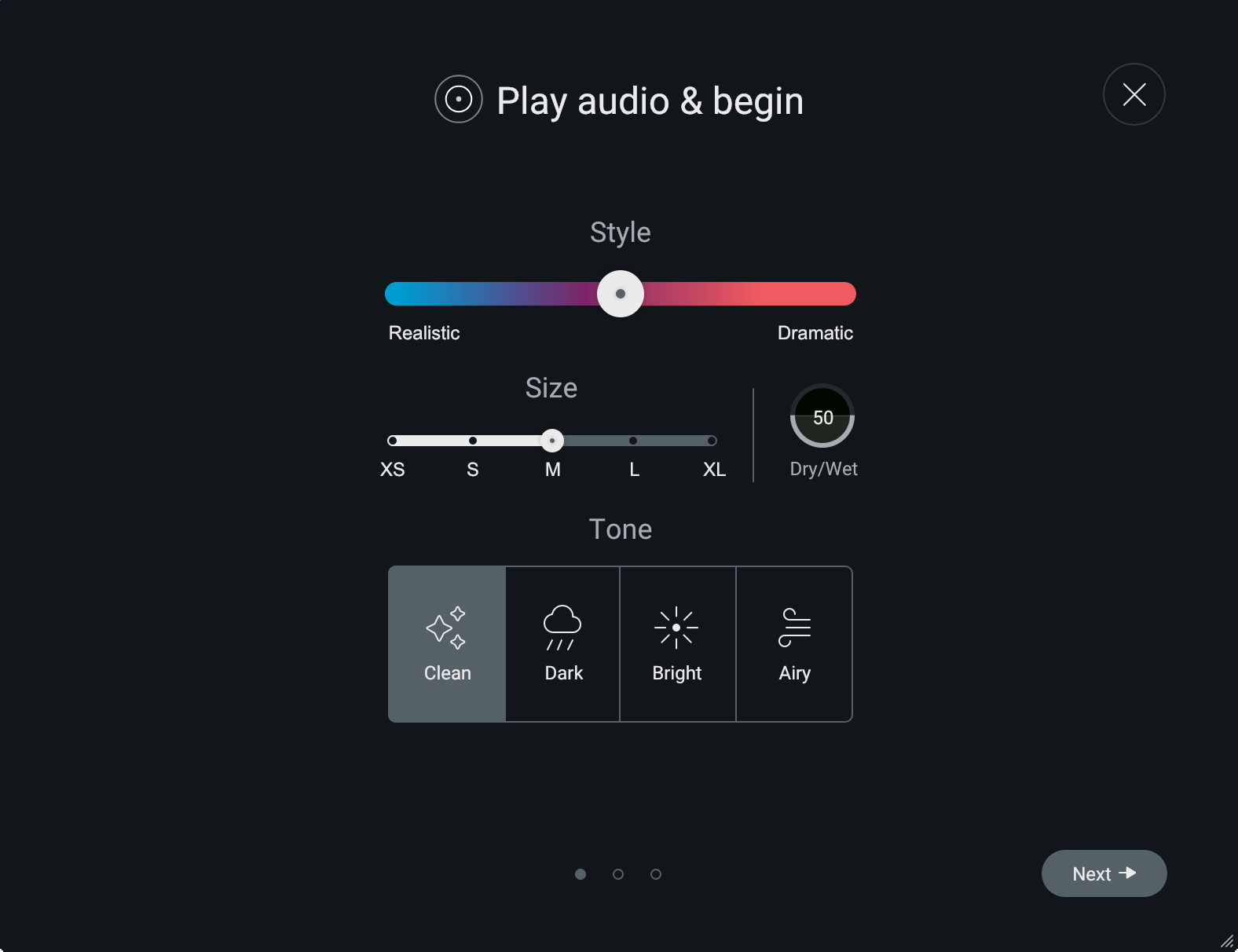 Find the right reverb, fast
Neoverb is designed to help you help you mix faster, and easily find the right blend of reverbs for your mix. The Blend Pad gives lets you intuitively mix three reverbs in one plug-in to place your instruments and vocals their own unique environments. A new Reverb Assistant helps you blend reverbs based on your creative intent, adjusting Advanced parameters for you via a streamlined, real-time workflow.
Fit your reverb into the mix
Neoverb's AI-powered EQs listen to your audio to give you a great reverb tone for any track. Use the Pre EQ with an Auto Cut function to automatically clean your input signal so it sounds its best before adding reverb. A Reverb EQ with a built-in Masking Meter, along with automatic Unmasking of the input signal, help keep your reverb under control in the mix. With Neoverb, you can achieve a great reverb sound without long plug-in chains or routing in your session.
Explore and get creative
When you're ready to go go deeper, Neoverb offers an endless world of reverb sounds to explore. Add your own unique touch with the Advanced Panel controls with unique settings for all three reverb styles, for near-infinite creative possibilities. Or, get reverbs ready-made for vocals, instruments, and genres with dozens of unique presets made by iZotope's team of professional sound designers.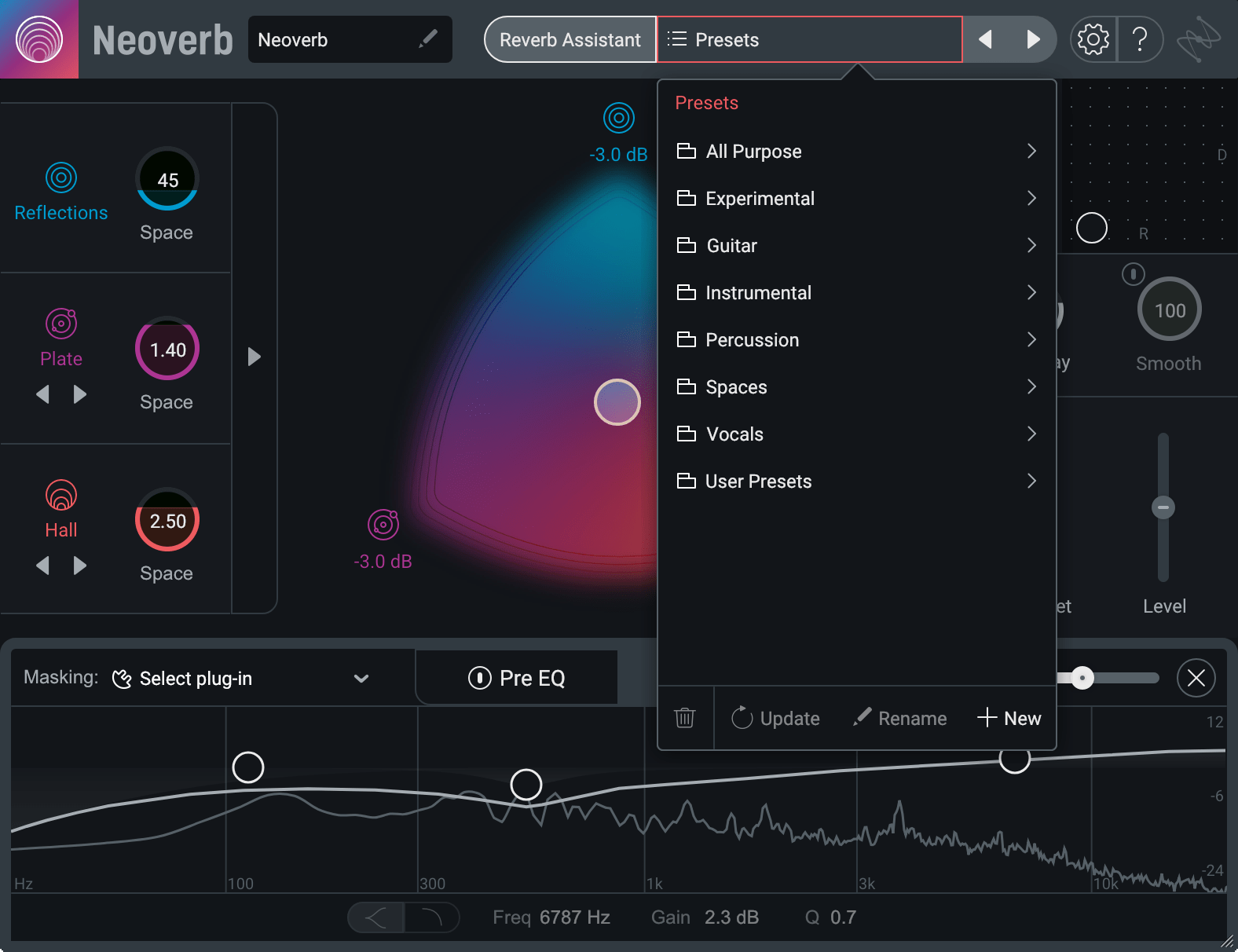 Blend Pad
iZotope Neoverb's innovative Blend Pad gets you further, faster by helping you mix three different types of reverbs at once, to create a unique reverb tail that fits your track.
• Blend different types of reverb together to get a unique sound in seconds: Add realistic space with Reflections, classic environments with Plate, and height and depth with Hall.
• Separate Size controls for each reverb type to let you create epic guitar tones, construct massive drum rooms, or dream up completely exotic spaces to make your mix unique.
• The Blend Pad is automatable, so you can change between different blends of reverb for creative effects and transitions in your song.
Reverb Assistant
Get a great reverb for any track, with an easy four-step Assistant that adjusts iZotope Neoverb's settings in real time. Create complex, customized reverbs, without spending time in menus.
• Choose your preferred Size and Style while iZotope Neoverb automatically selects and blends reverb combinations and advanced settings as you move the sliders.
• Add a little vibe with four different Tone selections that further adjust your reverb to give you dark, airy, bright sounds.
• Reverb Assistant listens to your audio and makes further EQ suggestions to get the cleanest possible reverb tone.
Reverb EQ
iZotope Neoverb's Reverb EQ helps keep your reverb clean and under control in the mix, with AI-powered Unmasking that listens and unmasks your dry signal, providing a clean professional sound.
• Mix your reverb, avoid long, corrective plug-in chains and get the cleanest reverb tone in just one plug-in.
• The Reverb EQ can automatically unmask your dry signal to get a clean reverb tone quickly with the Unmask button
• You can have Reverb Assistant set up Unmask for you, or you can quickly access it in the EQ window to get your reverb sitting right.
Pre EQ
Having a clean input signal is the key to getting a great reverb tone, and iZotope Neoverb's 3-band Pre EQ gets you set up by listening to your audio and suggesting the best areas to cut. You can further customize the EQ with shelving and band-filters.
• Treat your input signal before it hits the reverb to avoid unwanted build up or resonances in your wet signal.
• Use Auto Cut to have Neoverb listen to your signal and suggest areas to cut, in order to avoid
• Use filter nodes to customize your cuts, or let Neoverb learn your audio and make suggestions for you
Advanced Panel
You can customize Neoverb's advanced parameters within each reverb engine using the Advanced Panel for even greater control of your sound. If you're not getting quite the results you're looking for, dive into the Advanced Panel and explore!
• Individual, customizable parameters for each reverb engine, including Attack, Crossover, Damping, and more.
• Sync your pre-delay and reverb time to your host tempo to create reverbs that move with your music.
• Reverb Assistant also sets the Advanced Panel controls, so you can view and adjust your results.
Masking Meter
Stop muddy mixes before they happen with a Masking Meter that communicates with other iZotope plug-ins (via Inter-Plugin Communication) to show you where your reverb is masking other tracks, helping you keep track of reverb build-up in your mix.
• Use Dry vs. Wet mode to view masking over your dry track. Or, select another compatible iZotope plug-in to check masking on other tracks in the mix.
• Works with other compatible iZotope plug-ins like Neutron 3, Nectar 3 Plus, VocalSynth 2, and Relay
System Requirements
Operating Systems:
Mac: High Sierra (10.13) – macOS Catalina (10.15)
PC: Windows 8 – Windows 10
Plugin Formats:
AU, AAX, VST2, VST3. All plug-in formats are 64-bit only.
Supported Hosts:
Logic Pro X, Live 9.7 – 10, Cubase 9.5 – 10.5, Pro Tools 12 – 2020, FL Studio 20, Studio One 4, REAPER 6, Reason 11, Bitwig Studio 3, Cakewalk by Bandlab, Digital Performer 10.