Description
Over 18,000 instruments in 
SampleTank 4 MAX v2
The new SampleTank 4 MAX v2 now packs all 88 SampleTank products. This includes 28 SampleTank 4 libraries previously sold separately, the 34 synths from Syntronik 2 MAX v2, SampleTron 2 and the full version of Miroslav Philharmonik 2. Still included is the complete SampleTank 4 factory content along with all legacy SampleTank 2 and 3 factory content, plus every legacy SampleTank 3 library for a massive 600 GB of sounds and over 18,000 instruments.
SampleTank 4 MAX v2 overview
SampleTank 4 plug-in and standalone application
88 SampleTank libraries and SampleTank-powered virtual instruments
All SampleTank 4 factory content
All legacy SampleTank 2 and 3 factory content
606 GB of sound content
18,096 instrument presets
Inspiring your musical journeys.
One sound at a time.
Your new fast-track to world-class tracks
SampleTank 4 has been re-designed from the ground up to be every musician's "go to" workstation for music creation with a rescalable interface, a massively expanded sample library and a new cutting-edge sound engine with efficient disk streaming. What might usually take dozens of plug-ins can be accomplished right inside SampleTank 4, for lightning-fast workflow that keeps your inspiration going.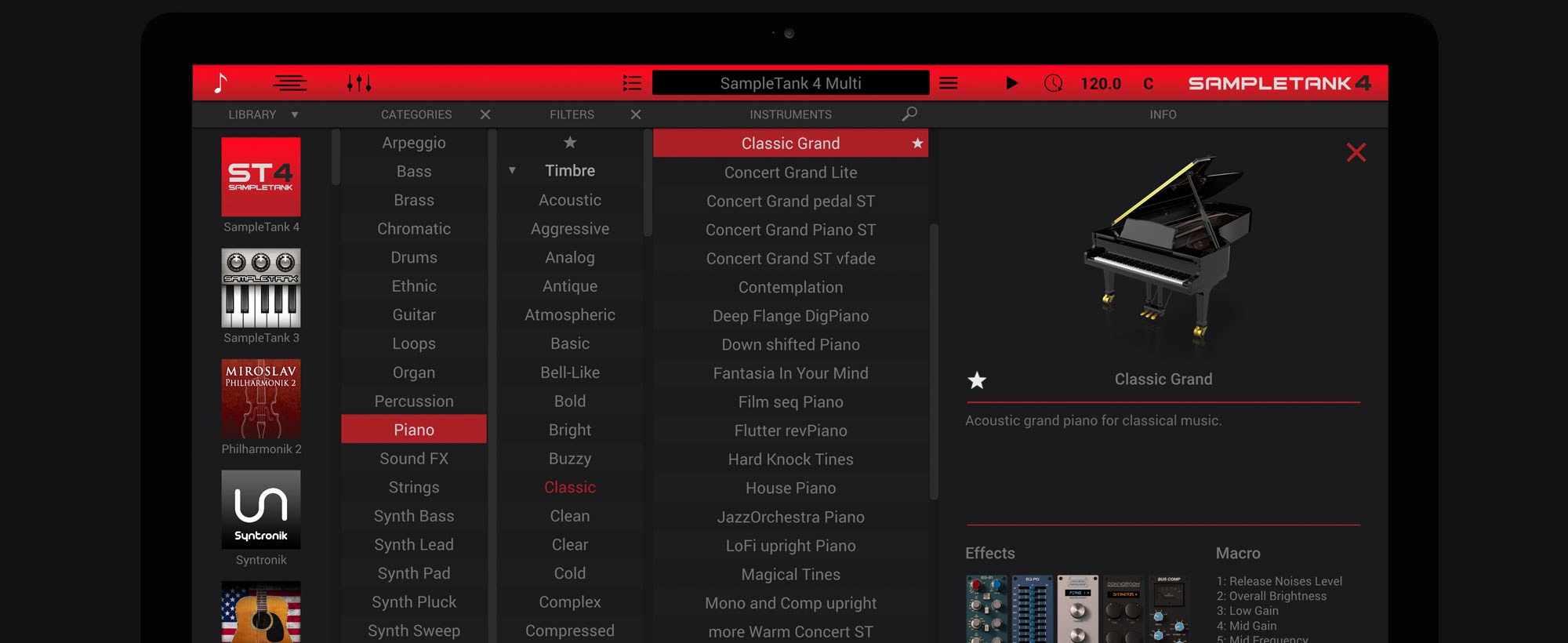 SampleTank 4 offers
A massive sound library with over 600 GB and 18,000 instrument presets
A choice of configurations to fit every musician's needs and budget
Dedicated Layer interface to set up layers and splitting points faster
4 new "Player" sections that turn presets into grooving performances
Faster mixing with in-interface access to all mix settings and onboard effects
13 new effects plus a new effects modulation matrix to shape your sound
Full MIDI control and seamless integration with iRig Keys I/O controllers
Redesigned Live mode to build sets with extended live performance controls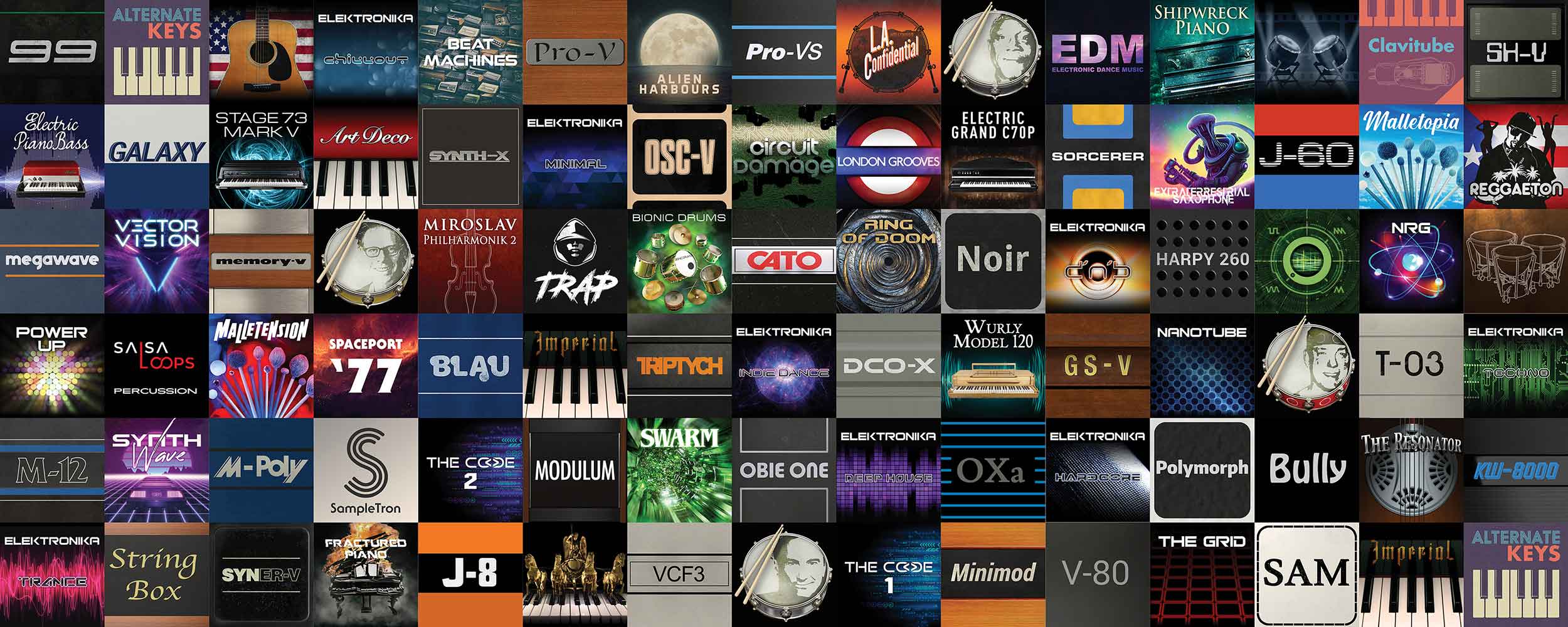 Find any type of sound fast and tailor them to your needs with the new deep, powerful editing options and a new modulation matrix. New dynamic "groove players" – an arpeggiator, strummer, and pattern and loop players – turn your sounds into songs faster than ever.
Plus a new live mode makes SampleTank 4 the perfect performance partner, with the ability to create entire set lists and easily map every parameter just how you need it.
Inspiring new sounds, powerful sound design features, advanced groove creation and tour-ready stage optimization. SampleTank 4 will take you wherever you want to go.
Dig Deeper
SampleTank 4 is now capable of so much more when it comes to creative sound design.
Working with multiple sounds is a breeze with the new dedicated Layer interface that lets you set up layers and splitting points faster than ever.
Opening the "Edit" panel of the Play window reveals the real power of SampleTank 4's completely re-designed new sound engine, letting you dig into even the smallest detail.
Animate your sound
SampleTank 4 turns presets into performances with 4 new "Player" sections:
the Arpeggiator, Strummer, Phraser and Loop Manager.
Mix faster than ever
SampleTank has always made it easy to layer and mix sounds, and the new Parts interface streamlines this process even more, with visual indications of each sound loaded, and instant access to volume, pan, mute, and solo controls.
Mixing is faster and more powerful, with in-interface access to all onboard effects. You can mix an entire track in one window, keeping you focused on the music and not menu-diving.
Each track in the mixer gives you access to panning, volume, mute, solo, and routing, so you never have to leave the window.
The best effects get even better
SampleTank 4 adds 13 new effects for a grand total of 70. You've never heard effects like these in a virtual instrument – they're all derived from our industry-leading AmpliTube and T-RackS software.
From unbelievably realistic tube saturation to classic analog pedal effects, professional studio processors to creative effects, you can shape your sound with the same effects heard on countless hit records and film scores.
What's inside SampleTank 4 MAX v2
Alan Parsons Imperial Grand
Alien Harbours
Alternate Keys
American Acoustic
Art Deco Piano
Beat Machines
Billy Cobham Drums
Bionic Drums
Brandenburg Piano
Cinematic Percussion
Circuit Damage
Clavitube
Electric Grand C70P
Electric Piano Bass
Elektronika – Chillout
Elektronika – Deep House
Elektronika – Drum'n'Bass
Elektronika – Hardcore
Elektronika – Indie Dance
Elektronika – Minimal
Elektronika – Techno
Elektronika – Trance
Extraterrestrial Saxophone
Fractured Piano
Future Synths
Hitmaker – EDM
Hitmaker – Reggaeton
Hitmaker – Synthwave
Hitmaker – Trap
Hugh Padgham Drums
L.A. Confidential
London Grooves
Malletension
Malletopia
Miroslav Philharmonik 2
Nanotube
Neil Peart Drums
NRG
Orchestral Percussion
Power Up
Ring of Doom
Salsa Percussion Loops
SampleTron 2
Shipwreck Piano
Spaceport '77
Stage 73 Mark V
Swarm
Syntronik 2 99
Syntronik 2 Blau
Syntronik 2 Bully
Syntronik 2 CATO
Syntronik 2 DCO-X
Syntronik 2 Galaxy
Syntronik 2 GS-V
Syntronik 2 Harpy 260
Syntronik 2 J-60
Syntronik 2 J-8
Syntronik 2 KW-8000
Syntronik 2 M-12
Syntronik 2 M-Poly
Syntronik 2 Megawave
Syntronik 2 Memory-V
Syntronik 2 Minimod
Syntronik 2 Modulum
Syntronik 2 Noir
Syntronik 2 Obie One
Syntronik 2 OSC-V
Syntronik 2 OXa
Syntronik 2 Polymorph
Syntronik 2 Pro-V
Syntronik 2 Pro-VS
Syntronik 2 SAM
Syntronik 2 SH-V
Syntronik 2 Sorcerer
Syntronik 2 String Box
Syntronik 2 Syner-V
Syntronik 2 Synth-X
Syntronik 2 T-03
Syntronik 2 Triptych
Syntronik 2 V-80
Syntronik 2 VCF3
Terry Bozzio Drums
The Code Volume 1
The Code Volume 2
The Grid
The Resonator
Vector Vision
Wurly Model 120