Description
[Note: This product requires a FULL version of Native Instruments' KONTAKT or Steinbergs free HALion Sonic SE]
SOUNDS OF KNIGHTS AND TAVERNS
Our first phrase library focusing on plucked instruments, MEDIEVAL PHRASES LUTE & THEORBO brings you into a world of classic imagination, booming with bards and taverns, questing knights, and roving robber barons and bandits. 
In the Middle Ages and Renaissance, the bards in courts and taverns constantly needed new ways to inspire their audiences. People looked back to the ancients for their inspiration, whether in science or medicine, or in music. The Ancient Greeks tapped into the divine in their epic recitations accompanied by the lyre and kithara. It was only natural that during the late medieval times – when all things ancient were coming into fashion again – that the lute and theorbo would take a centerpiece.  
Our MEDIEVAL PHRASES LUTE & THEORBO brings back that flair of medieval castles and the inspiring spirit of the Renaissance, transporting you to rustic pubs and medieval markets, from Homer's epics to the court of the Medicis. The light, heavenly plucks of the lute are richly accented by the deep voice of the theorbo, perfect for period pieces, experimental music, or ambient dwellings.  

CLEAN AND INTUITIVE INTERFACE
Drawing from the same spirit as the Lyrical and Ethnic Phrases series, with our MEDIEVAL PHRASES LUTE & THEORBO we present to you a whole new direction: the Medieval times. Keeping the same spirit as our Lyrical Series, we crafted a much more medieval inspired set of phrases. The phrases are set in Natural Minor and Dorian modes, common for that time.  
The interface gives you your choice of phrases, while an FX page offers you full control over the EQ. Use the added delay to draw out unexpected complexities and reverb to give you the space you need to fill the feasting halls of knights and ladies.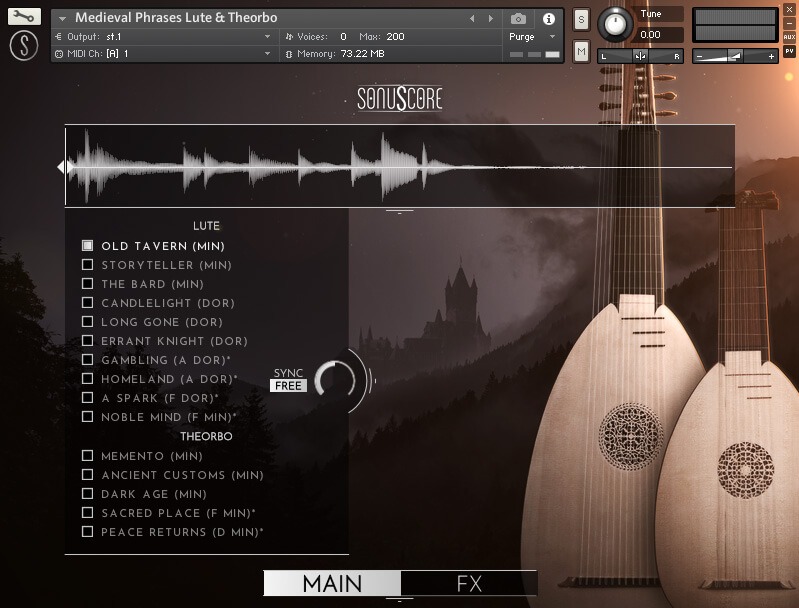 LIVE RECORDED PHRASES
The phrases are all recorded in the darker tones of the Natural Minor and Dorian modes, including plucks (with 3 round robins), tremolos, a variety of trills – most recorded with 2 round robins. They are meant to inspire the rhythm and movement of the Middle Ages. The zest and dynamic focus on rhythm means they can fit into more projects than simple lyrical phrases.
MEDIEVAL PHRASES LUTE & THEORBO
10 lute and 5 theorbo themes
Syncs to DAW's tempo
Fully playable rhythmic phrases
Lute playable in arps and chords
also playable freely as single instruments
FREELY PLAYABLE INSTRUMENTS
To connect the phrases further and more individually or to play your own melodies, you can also play the lute and the theorbo freely as individual instruments. Create stunning and authentic melodies in no time in combination with the emotional live phrases.
FX PAGE
MEDIEVAL PHRASES LUTE & THEORBO includes a whole set of modern tools, including 4-band EQ, delay, and reverb. Have instant and easy access to the most essential features to craft your sound to perfection.
SYSTEM REQUIREMENTS
FULL VERSION of Native Instruments' KONTAKT Version 6.7.1 or higher or Steinberg's free HALion Sonic SE*
Mac OSX.10.13 or higher, Intel Core i5
Windows 7 or higher, Intel Core i5
4GB RAM
at least 2.5GB of free hard disc space