Description
The SSL Channel Strip and SSL Bus Compressor — The Perfect Pair!
The Solid State Logic SSL Native Essential Bundle pairs two of SSL's most powerful plug-ins for a console-like mixing experience within your DAW. Containing the SSL Channel Strip 2 and legendary Bus Compressor 2, it has what you need to build a sturdy foundation for any mix. Channel Strip 2 emulates the venerable SSL 4000 large-format console, with the classic 4-band parametric EQ, filter, compressor, and expander/gate configuration, which has been a mainstay of pro audio for over 40 years. And you can switch between the legendary E Series and G Series profiles for added flexibility. The SSL Bus Compressor 2 is a spot-on digital re-creation of the legendary bus compressor featured on countless hit records. Celebrated for its ability to glue together a mix for a radio-ready sound, few bus compressors are as universally revered. Sweetwater is excited to offer this incredible bundle that's perfect for those starting their journey into the recording arts or seasoned pros who want the sound of an SSL board with the convenience of a plug-in.
SSL Channel Strip 2 Features:
Based on SSL's legendary console channel strip designs
4-band parametric EQ, switchable between E Series and G Series tonal characteristics
Variable highpass and lowpass filters
Customizable signal flow routing lets you choose how to order the processors
Compressor with simple but powerful Ratio, Threshold, Release, and Fast Attack controls
Soft ratio compression keeps dynamic character intact while evening out peaks
Sidechain processing for frequency-dependent compression applications
Natural-sounding gate/expander with smooth release response
SSL Bus Compressor 2 Features:
SSL-designed emulation of the famed G Series Bus Compressor
Revered for its ability to "glue together" a mix
Retains dynamic character of a mix even at higher ratios
Simple to use but incredibly flexible, featuring classic Threshold, Attack, Ratio, and Makeup controls
Plug-in version includes dry/wet parallel processing control and sidechain highpass filter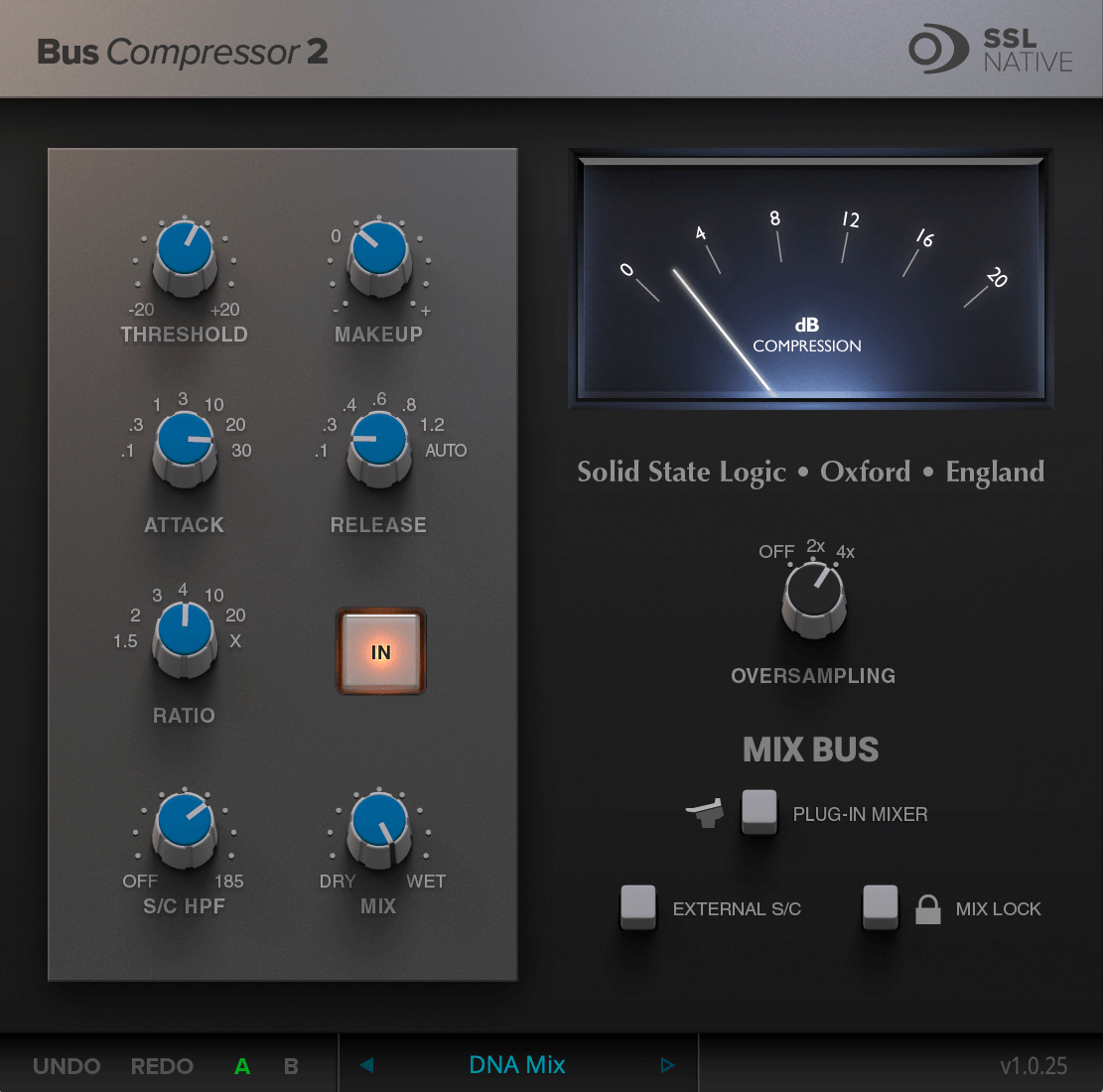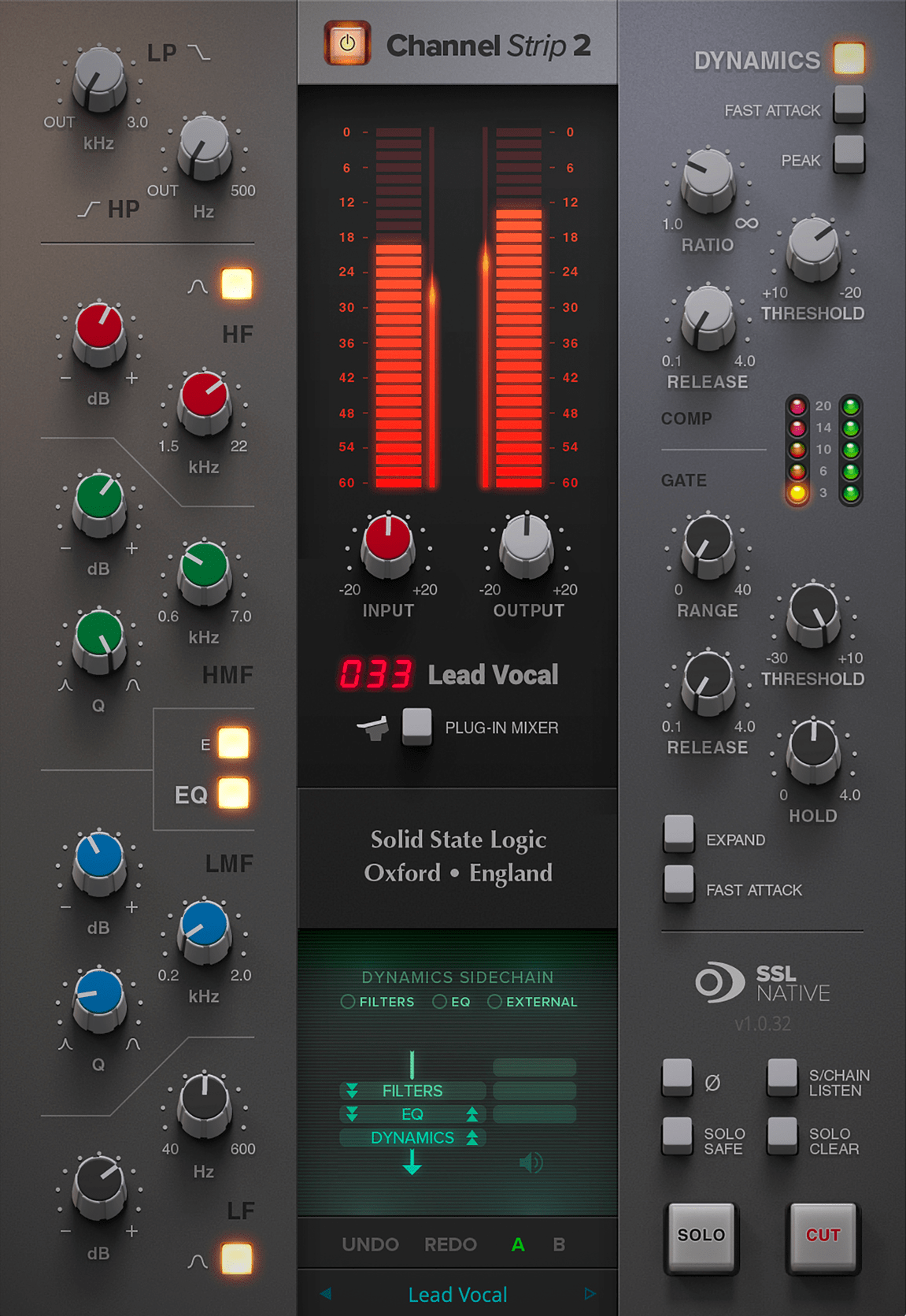 SYSTEM REQUIREMENTS
SSL Native plug-ins can be authorised by machine-based iLok licensing or iLok 2 / iLok 3 USB dongles.
Mac
macOS Sierra (10.12) or higher
Intel Dual Core Mac running at 2.4GHz or higher
4GB of RAM minimum, 8GB preferable
AU, VST2, VST3, AAX Native
Windows
Windows 7 (64-bit), 8 (64-bit), 8.1 (64-bit), and Windows 10 (64-bit)
Intel Core 2 (or comparable) CPU running at 2.4GHz or higher
4GB of RAM minimum, 8GB preferable
VST 2 (64-bit), VST3 (64-bit), AAX Native (64-bit)