Description
Can do all important digital synthesis methods + NeoFM

NeoFM is a new FM synthesis type and exclusively available in Nemesis


Can create unique sounds that are not possible with other synths

NeoFM offers superior sound quality and is more intuitive than traditional FM

Unique signature-sound: Warm, silky and creamy tones

NeoFM offers a much larger sonic range and has no weaknesses

Contains 1065 inspiring patches from professional designers

High-End sound quality with low demands on your CPU

User-friendly interface

Extremely versatile

Many high-end quality effects

Wave import and re-synthesis for unlimited sonic possibilities

True 4x stereo unison

Expandability

Trancegate

Powerful, easy-to-use arpeggiator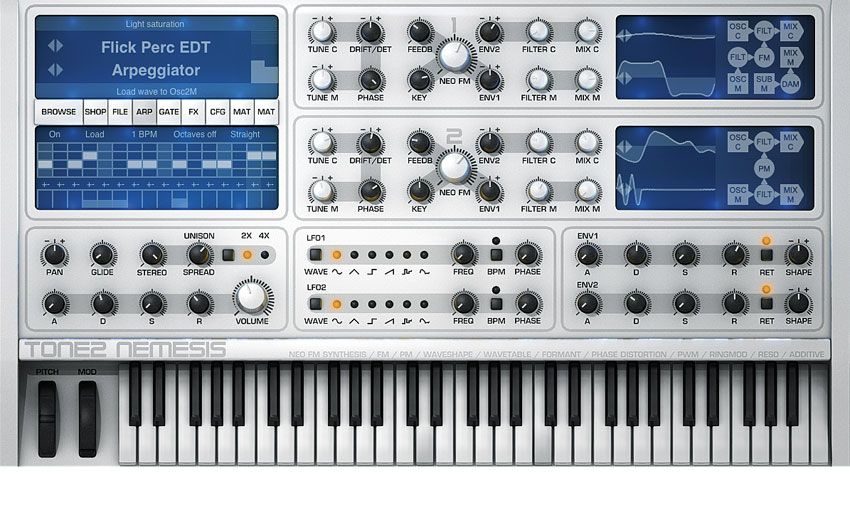 Nemesis features pristine tonal quality and offers sonic possibilities far beyond the scope of conventional FM synthesizers. A uniquely silky signature sound is generated by its engine. The synthesizer is capable of providing warm, smooth, and creamy tones as well as the classic digital sounds FM synthesis is well-known for.
Nemesis comes with a huge and inspiring sound library, built by professional sound designers.
The future of FM Synthesis
Nemesis takes FM synthesis onto its next evolutionary step: 
Ne
oF
M
synth
esis
.
 Conventional FM synths use phase modulation (PM) instead of genuine FM synthesis. Such synths are branded as 'FM' for marketing purposes. The traditional PM approach is limited and results in a bell-like or an unpleasant metallic sound. 'Real analog FM' suffers from drift, resulting in a disharmonious sound, which is not musically useful. The innovative neoFM approach combines the advantages of both synthesis types, but without adopting their weaknesses. It is now easier than ever to get great sounding results.
Beside of NeoFM, Nemesis features an impressive selection of 22 digital synthesis types. You can import a sample and re-synthesize a waveform or use the additive spectrum editor to manipulate the partials. With several play modes such as polyphonic, mono & legato, true 4x stereo unison and an unlimited number of waveforms. The sky is truly the limit.
44 different quality effects are available, which can be routed flexibly. The innovative 'Ducking Mode' makes your mix sound more transparent and fat. Nemesis offers smart micro-tuning which makes chords sound more fat and more transparent at the same time. It also offers optional punch and psycho-acoustic features to add a little kick to your sound. Nemesis offers a dedicated (Trance-)Gate section. The powerful Gate provides advanced features like Contour, Fading, Swing, Stereo and Shuffle.
The arpeggiator in Nemesis is inspiring, powerful and easy to use. Just select your notes inside the note sequencer as you normally would and choose the play direction. The arpeggiator also supports optional advanced features such as auto-chords, polyphonic playback, glides, swing or matrix integration.
By using drag & drop or the matrix, Nemesis allows you to connect dozens of modulation sources to sound parameters. Modulate almost any parameter up into the audio-rate speed, from internal modulation sources like the LFOs, to a wide variety of MIDI messages. We've also included midi-learn, so assigning CC's is as simple as a right-click.