Description
MFM2: More Feedback Machine
MFM2 is our over-the-top digital delay plug-in. You can create anything from subtle textured echos to huge spacey reverbs, from wild tonal steps on a pad to rhythmic deconstruction of a drum track. As a regular delay MFM2 already offers as much control and inspiration as possible, while the advanced features in version 2.5 open up wider horizons. More feedback, more control, more inspiration!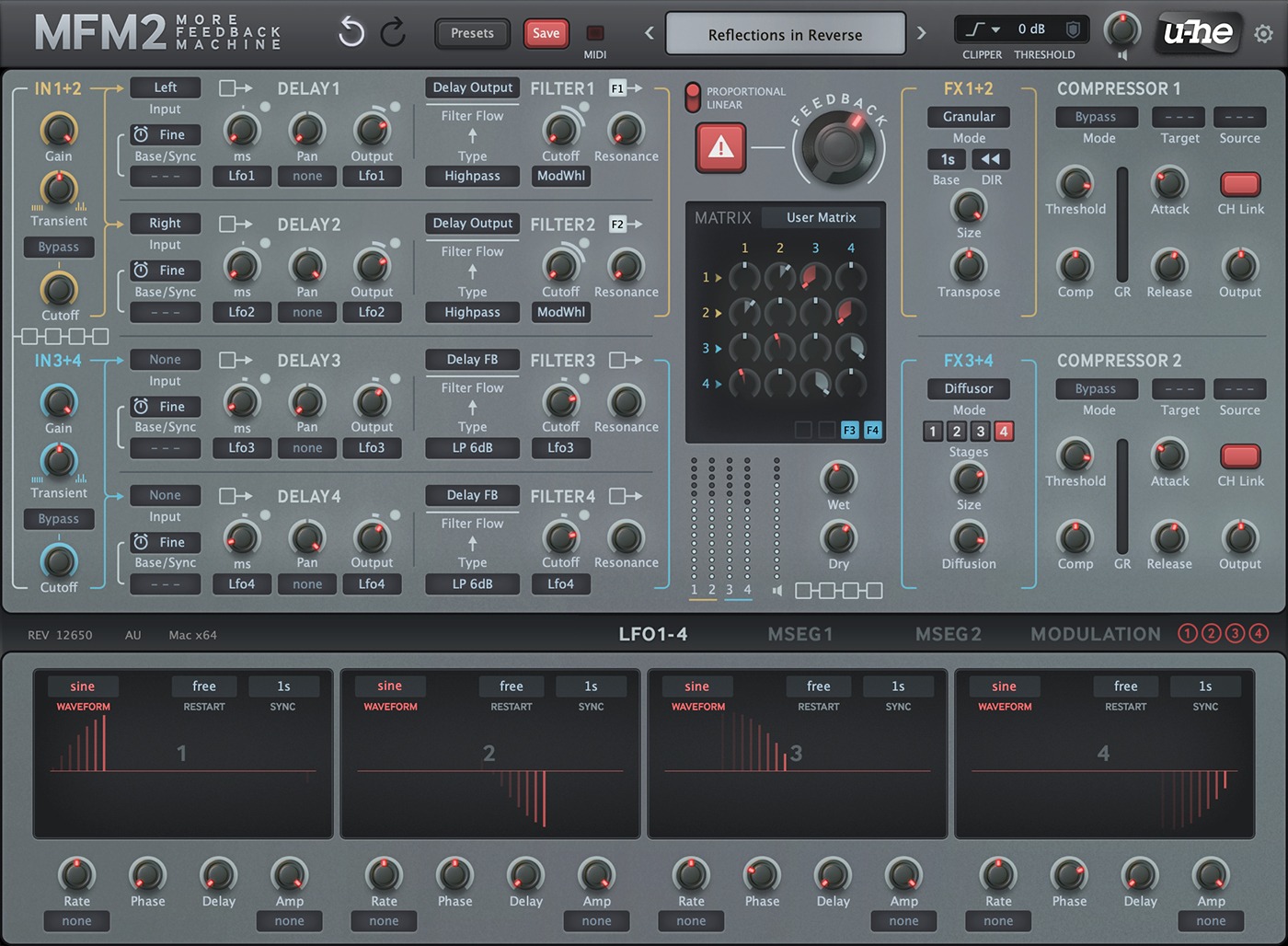 New in version 2.5: input section with gain, filter and transient balance
4 delay lines with independent absolute time or tempo-synced modes
Each delay line has its own multimode filter: 2x lowpass, bandpass, 2x highpass, bandreject or allpass
6 default delay configurations or user matrix (freely route signals between all 4 delay lines)
4 syncable LFOs with 8 waveform options or user definable shapes
2 syncable and loopable multi-stage envelope generator (MSEG) modulation sources
4-slot modulation matrix with depth modulation from a second source
2 channel-pair effects: soft clipper, bit crusher, phaser, frequency shifter, filter…
New in version 2.5: granular (pitch shift, reverse delays) and diffusor (reverb)
2 channel-pair compressor/limiters, with peak or maximize modes
New in version 2.5: output shield (soft clipper) with strength and threshold options
Scalable UI from 70% to 200%
400+ factory presets
MFM2.5 can do…
Ping-pong and panning delays
Filtered and frequency-shifted delays
Chorus, flanger, resonator
Reverb, diffusion and ambience
Granular effects
Degrading & distorting delays
Ducked and compressed delays
Endless loops
Keyboard-controlled (tuned) comb filter
Massive glitch effects
Any combination of the above
…and much more
Requirements
Mac OS X 10.10 or newer
or
Windows 7 or newer
or
Linux
Host software / DAW
1GB RAM, more recommended
50MB free disk space
1000 × 600 or larger display
Modern CPU required:
Windows/Linux: Intel Nehalem or newer, AMD Bulldozer or newer
Mac: Intel Nehalem or newer, Apple M1
Linux: glibc version 2.28 or newer
Formats
MFM2 is not a standalone product, it requires host software. MFM2 is compatible with nearly all DAWs.
macOS:
AUv2, VST2, VST3, CLAP (64-bit only)
temporarily no AAX
Windows:
VST2, VST3, AAX* (32-/64-bit)
CLAP (64-bit only)