Description
$69.95 Full Bundle
$49.95 Full Songs • Phrases • Atmospheres • Adlibs
$29.95 Serum Presets, Skin & Wavetables • Kontakt •  Ableton •  EXS24 Sampler Instruments  •  Vocal Loops • FX • Tones • Spoken Word
IMPORTANT LICENSE AGREEMENT NOTES:
ill-Esha has requested that producers NOT use the name Ill-Esha in the track titles.
If you use Ill-Esha's name in your track title you may be subject to a DMCA takedown notice.
Producers must produce their own full music backing for these vocals.  You may not use the vocals as is, without using your own production.
Vocals may be used royalty free in commercial productions.
Ill-esha arrives with 'Intonations", a truly groundbreaking & innovative vocal pack for all styles of music!
This MONSTER 5GB+ pack is one of a kind that is sure to inspire you in your music productions for many years to come.  Pop, Techno, Trance, Dubstep, Hip Hop, you name it. It's all possible with this pack!
Inside you will find a huge selection of high quality full song stems, phrases,vocal FX, tuned vocals, adlibs, atmospheres, phrases, tones, vocal drum hits, spoken word (DJ terms, worldwide memes, human noises, common phrases, words, numbers, and a computer spaceship), and Serum wavetables, plus so much more.  All sounds are tempo & key labelled, and reference MIDI chords have also been supplied to ensure the best possible user experience.  ill-esha has also included lyrics sheets, and other useful information on all aspects of her stunning work with "Intonations".
If all of this wasn't enough to get your mouth watering; there is also Custom Presets for Ableton Sampler, EXS Sampler, Kontakt and Serum, as well as custom skins for Serum & Kontakt.
The extras in this pack are a sound designers paradise, it is just down right insane how creative you can get with this pack.  Remix the full songs into your own productions, chop and slice up the phrases, or use one of the many hundreds of extras as fuel for creating many new and creative vocal fx and textures.  The content certain to make it into many of your future productions for years to come – it's a timeless pack!
Whether you are looking for intimate tones and vocals for Techno or Ambient Music, full on pitched and auto-tuned styles for Pop, vocal drums hits for Hip Hop, Dubstep or Glitch Hop (to name a few); its all here and ready at your finger tips.
Grab the pack today and get started on your next HIT with ill-esha and her blazing pack 'Intonations"!
More details from ill-esha on what you get inside:
Twelve full unreleased songs, separated in various stems;
Random phrases, adlibs and slides recorded in A, B, C, D, E, F, and G minor (at 120 BPM).  Some are lyrical, some are wordless, and some are done through various vocoder/harmonic effects.
Ten longer atmospheres, long and continuous sonic layers of processed vocal tones, in various keys;
Swells, glitchy builds, and other miscellaneous effects;
Spoken phrases including useful DJ terms, worldwide memes, human noises, common phrases, words and numbers, and a computer spaceship;
Vocal tones spanning more than two octaves pronouncing four syllables (AH, MM, OO and OH) in three different "character" voices – Breathy, Soulful and Straight.
Sampler instruments for the EXS 24, Ableton Sampler, and Kontakt Keyswitch, Single and Multi Instruments;
Drums and percussion made entirely from my mouth;
Wavetables made from my voice for Serum, and some bonus cool presets co-created with Frost;
Loops at 100, 120, 140 and 160 BPM, in various keys.
This is a very large download, please ensure you have a steady connection when downloading.  Download ZIP size 3.82 GB
The demo track is composed entirely of sounds included in the pack.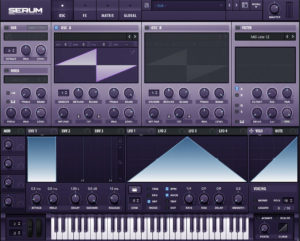 (ill-esha custom Serum skin)