Today we have a special one for the Women in Music interview series! Our very own Amy Kirkpatrick. She is known not only for being featured in massive media outlets such as Forbes, Billboard, Magazine, MixMag and Grammy Nominated with The Crystal Method, but also for her very own Vocal packs she has done here at Black Octopus Sound! You can check them out here!
Amy Kirkpatrick is also Platinum Record awarded for her songwriting with Universal Music Group in Europe. She knows her way around songwriting front to back, and a top notch vocalist. With a truly original and elite vocal style, she has taken the world by storm with sample packs, songwriting and releasing as an artist. You can check out her debut solo single Lifeline remixed by Phaeleh HERE
So without further ado, lets get into the interview with the talented Amy Kirkpatrick!
BOS: What are your main roles in Music Business and the Music industry?
AMY: My main roles seem to shift and evolve year to year, which I think keeps longevity in a career in the music business. I'm a producer and songwriter, and recently released my debut single 'Lifeline' as well as a Phaeleh Remix on my boutique label Little Shop Records. I create Sample Packs and have recently gotten into field recording and creating meditations and wellness tools for artists within the industry.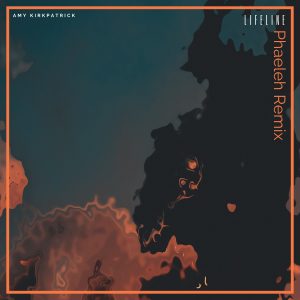 BOS: How long have you been involved with the Music Industry?
AMY: I booked and organized my first official live show at fifteen, so twenty years I've been in the business. I've been a full time professional songwriter and composer in the industry for about ten years now. I've been playing classical piano concerts since I was four.
BOS: What are some tips for other women that want to get into the Music Industry?
AMY: Find and create the communities you want to see and be a part of. Reach out to people you'd like to work with, befriend rejection (it's just information fueling you to move forward), seek collaborations that excite and inspire you, and try new things. I didn't even know the world of Sample Packs and music production was something that would interest me when I first started and now I find studio work much more grounding and creatively fulfilling for me than touring or live shows. Say a loud and clear no to things you don't want to do. And say a 'yes and figure it out later' to the projects you want to be a part of. That's what we're all doing, from newcomers to professionals. We're figuring it out as we go.
BOS: What are your favorite things about being in a Music scene?
AMY: I really enjoy meeting and connecting with other songwriters and feeling that deep creative connection. Sharing the highs and lows and the ways we get through them. I also really love that I have years of experience and trials and errors behind me to help the next person. Coaching and empowering others with information is really meaningful for me these days.
BOS: What are some of the challenges that you have ran into being the Music Industry?
AMY: Over the years there's been challenges with having a healthy sustainable income, inequalities for women in the business, not getting jobs or booking certain gigs because I'm a woman, and also various emotional experiences with sexual harassment. The Me Too movement didn't exist when I was first starting my career and I felt very alone. I'm so grateful there's now more action taking place, and communities to join when you're seeking help. I now have tools that help me for each of these challenges, the main one being if something feels off, it is. And to walk away from any job, person, or situation where I don't feel safe, equal, and valued for my skills and experience.
BOS: What are your favorite styles of music when you are listening? It can be totally different than anything you work with!
AMY: I pretty much only listen to ambient music when I'm at home. I'm a distance runner, so for that I'm a big fan of Lane 8 mixes, Bob Moses, Rufus Du Sol, and something a little more upbeat.
BOS: What is the best memory you have while writing music?
AMY: There's sort of a lot of little moments. I like to think my songs know how I'm feeling before I do. Sometimes when I'm working through something emotionally, my lyrics will tell it how it is very clear. I love those moments where you can't hide from your own writing. I also have songs come in one full thought, or channeling stream. I tease that the second I say I'm taking a break from songwriting, songs and lyrics just won't stop barreling through.
BOS: What are your greatest accomplishments? Either in music or in life in general.
AMY: I gained a Platinum Record for a track I co-wrote with Universal Music Group in 2020. That was pretty cool and definitely felt like an 'exhale' moment. That's something I've wanted to accomplish since I started and I feel will get me into more rooms moving forward. In life, I define success as peace and being present. Success to me is having loved ones around that are happy and healthy, having a creative outlet that feels inspiring, making enough money to have a calm less anxious mind, and helping the next person. I love what I do but nothing is at the cost of my mental health and wellness these days. That feels like a massive life accomplishment for me after leaving Hollywood and living at fight or flight stress levels and to truly understand and recognize happiness comes from being in the moment.
BOS: What are your favorite audio plugins or pieces of gear to work with?
AMY: I'll be honest, if I could live in a world where I never had to touch a computer or use gear to work, I would. For me using my voice is the only tool I crave to use as a singer or having my hands on a grand piano for composing. But during the pandemic I absolutely saw the value in learning and using production tools. It just gives you a freedom of being able to do things yourself and to produce your own work. I use Ableton which I find fairly straightforward to use after a couple years of learning and my favorite piano sound is 'Mini Grand'. I'm blown away at how close it sounds to an actual baby grand. I use an Akai MPK Mini for sampling and simple piano lines because I travel often between cities or studios and it's nice and compact. Audio Technica headphones always. I also use a Zoom recorder for field recording ambient nature sounds, either for sampling or for a new project I'm working on. I keep it all pretty simple.
BOS: How do you see the Music Industry changing in the future?
AMY: I already see the world of Sample Packs evolving and being an incredible way for artists to earn an income, as well as it being a new art-form. I've also learned through my own experiences that you can have even more success releasing tracks on your own, publishing your own work, and then pitching to places yourself. It just moves faster in a lot of ways. No one is going to work harder for your career than you. I see a lot of artists saying they're not into major record deals or pub deals anymore. I'm fully independent now, out of all record and publishing deals from my past, and for me it's felt so much more freeing. And you own 100% of your own work so… something to think about.
BOS: How can other Women help ensure a promising future in Music Business and the Music Industry?
AMY: Keep speaking up for each other and building communities. Any chance you have to help lift someone up or offer a connection that could help them, do it. Learn how to negotiate deals, and don't be afraid to ask for what you feel you're worth. Funding your projects, and having a sustainable income will enable you to stay in the music industry. I can't stress this enough. I've been there, not being able to afford groceries and being sick from stress, then somehow being expected to perform well in studio sessions. You can't pour from an empty cup, and yet artists are repeatedly expected to. Once I put myself and my health first, the dots connected so much faster.  My confidence skyrocketed and I was able to create a sustainable path in the industry on my own terms. Take care of your own health and wellbeing first and foremost, and find people you connect with. When we hire each other, pay each other, share information, and release incredible music that's making waves for all of our futures. I also offer coaching for women in the music business if that could be at all helpful, feel free to reach out and chat.
Thank you hugely to Amy Kirkpatrick! Be sure to check her out on Instagram and Spotify and become a fan!