Welcome back to another interview with a super talented and amazing female artist in the music industry! Today we are sitting down with Universal Records / Quartz Records artist and electronic beat making extraordinaire Sensu!
Jasmin Peterhans (born 1992) known by her stage name Sensu, is a music producer, musician and live-act based in Baden, Switzerland. To simply call her a producer and performer of electronic music doesn't do justice to the dimension of her soundscapes. While her unique signature style borrows bits and pieces from experimental, electronica and Bass Music, a soulful warmth resonates from each of her productions that places them in a category all their own.
As a teenager, Sensu discovered hip hop, the culture held her attention for several years. By 2012, though, the global resurgence of electronic music had influenced her to try her hand at producing more eclectic styles that expanded her creative horizons.
Signing with Universal Music in 2019, Sensu's debut record called Embrace was released September of the same year and undoubtably strengthened her profile as one of the most auspicious young electronic musicians around. It featured collaborations with internationally emerging artists just as Otis Junior, Bassette and Ryck Jane, as well as young Swiss singer Benjamin Amaru and is an infatuating conglomeration of Bass music and pop-loaded Electronica. In addition, the release and the associated hype earned her a nomination as "Best Talent" at the Swiss Music Awards 2020.
<Sensu has a sound all to her own and has been gathering fans around the globe with various single releases, EPs and an album on a Major Label. She is setting the standard for a lot of upcoming talent! Just check out Sensu's new single "Confused" HERE to see what I mean.
Ok, so now we know about her, let's get started!
BOS: What are your main roles in Music Business and the Music industry?
SENSU: I'm a music producer and live artist from Switzerland. I collaborate with vocalists from all over the world to work on tracks for my projects and also produce instrumental tracks for others.
BOS: How long have you been involved with the Music Industry?
SENSU: In 2017 a friend of mine established an independent record label for electronic music called Quartz Records. It all started with my first EP "Lose Sight" which was released the same year. The years before I was working on my producer skills and released some tunes on Soundcloud, but that was all.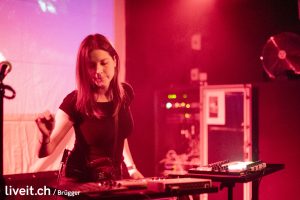 BOS: What are some tips for other women that want to get into the Music Industry?
SENSU: I definitely recommend to collaborate with other people who already have experience in the music industry (or not, just know that collaboration is the key). I think it'll help to gain some self-confidence in what you do. It doesn't matter if you're a vocalist or a producer, but sharing thoughts will inspire everyone around you, and you can reach a next step you want to achieve.
BOS: What are your favorite things about being in a Music scene?
SENSU: My favorite thing is to get to know so many people and make connections all over the world. I absolutely love to collaborate with other artists and work on songs together, it broadens my horizon, which fulfills me in a deep way.
BOS: What are some of the challenges that you have ran into being the Music Industry?
SENSU: I think the biggest challenge is to find people who really support your project and vision with all their heart. Someone that "gets it". Also, it's very important to find people who will always be 100% honest when it comes to your music. It's the only way to get better in what you do.
BOS: What are your favorite styles of music when you are listening? It can be totally different than anything you work with!
SENSU: I must say most of the time I listen to rap and electronic music, but there are also times when I love to listen to metal music. It always depends, but most of the time I just listen to my Mood Playlist on Spotify. It includes everything I like at the moment.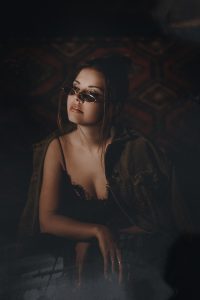 BOS: What is the best memory you have while writing music?
SENSU: Diverse moments when I realize I created something really special. I love that indescribable feeling you have when that happens. Also a special moment to me was, when I first heard the idea to "Outspoken" from UK based singer/songwriter LYAM. He showed it to me when I was at Kensaltown Studios in London with him. We met a lot of inspiring people thanks to that project.
BOS: What are your greatest accomplishments, in music or in life?
SENSU: I think one of the greatest accomplishments in music was to be the first (female) music producer in Switzerland to sign a major record deal, be nominated for a Swiss Music Award, and that I had the chance to play shows all around the country.
Also one of the greatest thing (not really an accomplishment though), is to find my own style/genre and still have the chance to learn so much every time I work on new music.
BOS: What are your favorite audio plugins, techniques or pieces of gear to work with?
SENSU: I love to create new tunes with my Prophet-6 and my Moog Sub37. It feels good to not always be focused on all these vst plugins and I really enjoy the different workflow. Of course I also use a lot of different plugins. A few of my favorite FX are FabFilter Pro-Q 3, Echoboy, ValhallaVintageVerb, Decapitator, LittleAlterBoy and when it comes to synth/instrument plugins I like to work with Omnisphere, Keyscape, Serum and Synplant.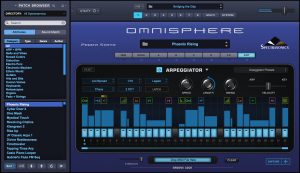 BOS: How do you see the Music Industry changing in the future?
SENSU: It's so easy to release music nowadays. I think more and more music will be released in the future, so it's really important as an artist to tell a story, interact with fans/listeners and most important to find the "WHY", so people can identify with the artist and the music.
BOS: How can other Women help ensure a promising future in Music Business and the Music Industry?
SENSU: I think if we collaborate and support each other more often, it'll definitely help to ensure a promising future in music business and also the music industry. I think everything's possible if you approach life with an open mindset!