Welcome to the first interview of a massive series filled with loads of talent! Women in Music will be focused on Female talents in Music. They will be talking about their careers, goals, tips for the new generations, and other nuggets of info and experience. We are excited to bring Jessiquoi for the first installment!
Jessiquoi is becoming a household name in Europe and she is leaking Stateside too with a tour in USA and Canada prior to Covid. She is also a near and dear friend to me working as a Record Producer at our studio, Influx Studios, in Bern Switzerland and Berlin Germany. With that said; I knew she would be the perfect first person to bring in for the Women in Music interview series. She is a huge advocate for young women getting into music in Central Europe and teaching classes at all girl production schools. She has been through the ropes in all areas of the business and stepping into a big role in 2021 as Record Producer for others to utilize her talents and expertise. So first, let's get to know Jessiquoi!
Jessiquoi is a producer and performer from Australia, now based in Bern, Switzerland. She is experienced in production of many styles of music, such as electronic, rap, experimental and pop music. After exploding onto Switzerland's underground electronic music scene with audacious, energetic live shows, she quickly progressed to massive festivals such as Gurten Festival and Zürich Openair. After winning Best Electronic and Demo of the year at M4Music Festival in 2018, she has spent the last 2 years expanding to the European arena, and beyond; all the while releasing music that she recorded and produced entirely alone. She approaches music production with a holistic view, keeping in mind all aspects that encompass a music career these days – songwriting, producing, live shows, music videos, marketing and social media. Sports fans can also hear her work on the latest MySports television programs. Jessiquoi is an Ableton Live coach and has been working closely with HelvetiaRockt over several years to give young women the skills they need to produce their own music. She is the newest team member at Influx Studios and works as a producer.
I got to sit down with her and ask her some questions about her work and future industry views. Here we go!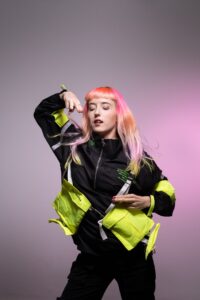 What are your main roles in Music Business and the Music industry?
Foremost I see myself as a composer and a producer. However, I've spent the last 5 years performing my music on stage as well. Since I actually come from a background in dance, I feel very comfortable being both the studio hermit and the entertainer on stage. Most recently I started working as a record producer at Influx Studios in Bern, Switzerland.
How long have you been involved with the Music Industry?
For me that first show in October 2015 where my name was actually on the bill at a venue marks the beginning of my industry debut, even though there was a lot of preparation and training that went into getting to that point!
What are some tips for other women that want to get into the Music Industry?
Personally I don't think the tips for women vary from the tips I'd give men – If you have a vision, pursue it. People are going to criticise you for it anyway. Just smile and give them the middle finger in your mind. That crazy or 'stupid' idea you have? Do it. Women are definitely becoming more apt at doing this despite all the pushback!
What are your favorite things about being in a Music scene?
Since I work on my music alone, I love being able to get out and perform. Through sharing backstages and seeing other people play before and after my own set I've discovered that there are many interesting projects  happening in Switzerland. It's sad but I think I had a bias against the Swiss music scene in the beginning. Let me tell you, it's not what you'd think!
Check Out Jessiquoi "The Addict" music video here!
What are some of the challenges that you have ran into being the Music Industry?
I worry that everyone, including myself, is focused on getting that hit song. I worry that everything we produce has to fit into that sellable format. You know the one I mean – chorus/hook within 30 seconds and no longer than 2:45 long. ABABCB. And that not only affects our process, but also the value we assign to different music. Just because you didn't make a wonder-hit of a track that Spotify graced with multiple playlist placements, that doesn't mean you're a failure as a musician. And yet that's what the culture communicates to us.
What are your favorite styles of music when you are listening? It can be totally different than anything you work with!
I don't enjoy listening to music that's too similar to what I do. I like listening to either K-Pop or Taiwanese pop. I find that the song structures are often very different to western Pop, where you'll generally have a 4 chord structure going through the whole song and the melody and drum/bass arrangement will vary in intensity, but the chords remain the same. In K-Pop the pre-chorus might have bouncy, completely different chords to the verse and almost sound like a new song. Then it may transition into a chorus which has diminished 5ths all over the place and sounds rather dark. There's always a surprise waiting that keeps my attention on the song. In my opinion it sounds as if it was written to be actively listened to. I like that in a pop song. I've also become interested in listening to other Swiss underground artists.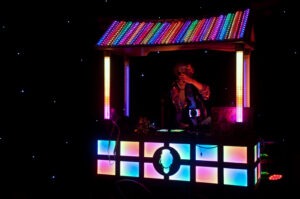 What is the best memory you have while writing music?
Every time I'm working on a song there is this moment where all the main elements come together and the thing just grooves. It happens on every song that I end up releasing. There's this point where it's not even finished yet but I simply can't stop myself from getting up and dancing and singing through the studio.  I'll spend about an hour doing that with the demo on repeat. That's the moment when I feel so happy, because everything in my tiny universe goes into perfect harmony. And it's this self-generated happiness (especially for someone who struggles with exactly that) that makes me so thankful that I'm able to make music.
What are your greatest accomplishments? Either in music or in life in general.
This question is hard for me because I definitely struggle with destination fever. If I landed a hit song tomorrow maybe I'd feel good for a day but then I'd start worrying about what I could do even better. I guess my greatest achievement is that I actually took the plunge and trusted enough in my own talent and vision to do what I love.
What are your favorite audio plugins or pieces of gear to work with?
Right now I'm kind of obsessed with Output's Analogue Brass and Winds. I love that epic brass sound especially in movie or game music. I always wanted to incorporate that into my style. Of course there are loads of presets but I find that there is so much room for customisation of the sounds since they give you access to all the parameters to completely redesign the sounds yourself. Anyone listening to my new music will also hear Soundtoys' Little Alterboy at work!
How do you see the Music Industry changing in the future?
I'm not too savvy about the business side of things. I know that I would like streaming to be made fair for creators. I know that I would like the distribution of wealth to actually reflect the value of what the creatives – the originators – do, instead of downgrading us to a level of dependance on middle men and gatekeepers. Without the creatives, there is no music industry. But I feel uncertain whether that will change quickly. The power imbalance has been around since long before streaming. What I do predict is that multi-media experiences such as games and virtual reality will become widespread and music will be a huge part of that. Some of the best games in history had memorable soundtracks as well, after all. So I think that collaboration across different media and the visual presentation of music will continue to gain importance.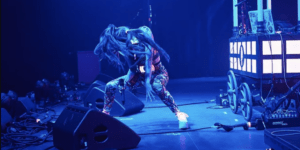 How can other Women help ensure a promising future in Music Business and the Music Industry?
I feel that women approach music and the stories they tell in their music differently to men. That's because we still experience life differently in our societies. Women have a unique perspective to bring to our global musical landscape that cannot be imagined by someone else. As more of us emerge as composers, producers and storytellers, the more the scene will innovate. I think we are only at the beginning of seeing what women can and will do.
So there you have it! A step into the mind of Jessiquoi and her work! If you want to check her out, be sure to drop her a like on Facebook and follow in Instagram! She also has a website here that shows her latest Music Videos and singles and releases!