We have so many packs here at Black Octopus Sound it is literally impossible to narrow this down to a top 10 packs list. But alas, it is the trend… it is expected.. and therefore I will give you my personal *and unbiased* opinion of the must have packs we have released so far this year. This list showcases all different styles and I will give you the reasons I find them so appealing for the modern producer! It is not an exhaustive list… we have way too many that belong here. But it gives you a taste of some of my favorites.
So let's dive in; going deep with our sample packs! (PS this was a play off the Going Deep series of articles we did… if you haven't checked them out you can do so here)
Shook Synth Funk II
Why? Because it's Shook! I mean, this guy even had his song covered by an astronaut on the space station on video after learning it from Spotify. How can you not love his work!? But from a producer standpoint, the reason I feel this is a must for the top 10 list is because he gives his signature sound in the Samples and Loops in the pack, but he also leaves room for you to get your own sound and style from it. Also, Synth Funk is a huge genre right now. It can be used in so many other genres and styles and applied to different production techniques to become strong additions to your latest song. He worked entirely in the analog domain and gives you the touch of that warm sizzle in tone and character.
Grab Shook Synth Funk II here!
iamhill – Nobody Wants To Be My Friend
iamhill is so talented and takes Pop and flips it upside down and gives you something so dark… noisy… in a beautiful way, that everyone and their dog or cat should be into it. It doesn't matter if you like Brit Spears or Metallica… you gotta say this girl knows what's up. And we were lucky enough to bring her on not only as a sample pack designer with her producer Mike Schlosser, but also, the first ever Black Octopus Music label/sample pack combo release. This baby sat top 100 on Splice for a long time, too. It proves to be a sample pack that can be used in so many ways and each sound is perfect for anyone wanting to get a more 'outline' of a song already released and molded into their own sound; or, you can go completely ground zero and build from scratch. It's dirty… it's sexy… it's everything that makes my speakers tremble with orgasmic bass.
Grab iamhill – Nobody Wants To Be My Friend here!
Retribution – Heavy Dubstep by Lions Den
So there is a deep and dark history to this pack. One I won't get into too far… but let's just say that Greg (aka Lions Den) was handed a sh*t end of the stick with his past project; which had some of the hottest and highest selling packs on our shop. It wasn't until he found out someone he was working on sample packs with was on the news after being abusive and racist, hurting people at protests and being arrested. Greg did the very right thing to pull all packs from all shops and put a final nail in the coffin that was WB X MB. He took a huge fall doing this (both financially and emotionally), and still did it because it was the right thing to do… so why do I say this now? Because Retribution was his first pack back as a solo sound designer and giving a big middle finger to anyone trying to hold him back (like aforementioned racists and abusive people). He has since released an astonishing amount of brilliant packs that all belong on this list. But I will choose this one for the reasons mentioned above. This was him coming back with a stronger than ever example that he doesn't need anyone else to do what he does. He just needs himself and his talents behind the studio desk! This is a must-have pack for anyone into Dubstep, Riddim and heavy bass music. It's everything WB X MB was, and then some!
Grab Retribution – Heavy Dubstep by Lions Den here!
Basement Freaks & Concord Audio Presents – New York Flash
Is it truly a top 10 sample pack list without Basement Freaks somewhere in there? I think not! Basement Freaks is one of the most prolific, funky, go-getter sound designers I have had the pleasure of working with here at Black Octopus Sound, and with over 30 packs releases (…seriously… how?)… he proves he can just keep going and never stop putting high quality sounds out time and time again! This is why New York Flash comes to mind. This pack is a collaboration with and gives you analog grit however you want, whenever you want, as Bass, Drums, Guitar, Keys, Fx and more. If you want to bring the sound of Jazzy Funky Freshness into your studio, then this is for you. Who doesn't want the sounds of New York in their studio? (Of course not talking about the police sirens, traffic and overwhelming amount of crowds).
Grab New York Flash here!
Ilkey Sencans Secret Lab Vol 1
What's in common between Tiesto, Dimitri Vegas & Like Mike, Oliver Heldens, Afrojack and David Guetta? They have all supported rising star Ilkay Sencan! (Had to grab that directly from the description because it's just too good – and true!) Ilkey Sencan has achieved huge star success and one of the biggest hitters in Instanbul. He brings us an EDM pack that is perfectly suited for the top charting sounds and combining it all with a flavor of House and Garage, that just never stops providing you with inspiration and sounds that keep you moving! There are construction kits, samples, loops and so much more with the Serum Presets and Noise Files that you'll plop this pack in your quick-to-reach-for-folder in your DAW.  Are you into producing EDM? Don't have this pack? Then now you know why you need to!
Grab Secret Lab Vol 1 Here!
Psystyle – Psytrance vs Rawstyle
OK, I know I said I wouldn't be biased… but I do love me some Psytrance. Also, it's hard to come by a good sample and preset pack that brings a modern touch to the Psy sound. This one does all of that and will rip up any festival or dancefloor from here to Goa! It's bringing in Rawstyle filth with Psytrance elegance and in an intellectual way giving you lots of freedom to produce how you see fit with your own vibe or touch. Even better? It comes with Serum Presets! So get into customizing your own sounds in no-time and you are set to melt faces (do we even use this term anymore?) everywhere, far and wide!
Grab Psystyle – Psytrance vs Rawstyle here!
Zara Taylor – Music Box
Zara Taylor is not a new face to us here at Black Octopus Sound. She has done an amazing vocal pack for us in the past called "In Pieces", and now her return with Music Box, we can see why it's a must that every producer has some Zara Taylor in their vocal sample collection.  Charting top 100 Splice right out of the gate and holding strong there for weeks showcases how much the world loves her voice. Let alone she is a highest selling vocal pack artist on our own shop! Inside you find 9 entire songs plus vocal atmospheres that will take you to heaven and back. So much comes from this pack that works for all styles that you have to ask yourself "why wouldn't I have this?", because it's a must. Oh, did I mention there are Serum Presets, Sylenth1, Drums, Midi and more? Yep! It's all there waiting for you.
Grab Music Box here!
Earthscapes by Amani Friend
Weighing in at over 3 gigs this pack is absolutely massive! And it's one that is much different from all the others on this list. It is filled with Foley and Field Recordings. Perfect for use in everything from music to score to SFX for games and film, you can bring the sounds Amani captured while traveling the world. Amani is also no stranger to the industry; he is the mind behind Desert Dwellers and has toured the world playing festivals and venues. If you want to bring a bit of this 'ancient' feeling of sounds into your production; here you have it. Straight from nature to your studio.
Grab Earthscapes here!
Dawdio – London Liquid
Newcomers, but actually, not at all; here is Dawdio. Dawdio is a new outfit from our very own content guru Jess and her partner Tom from V O E, who happens to also be an employee here at Black Octopus Sound. Is that why I included it? Absolutely not! But that is also a strong reason we love having Tom on the team because his sound design work is as cutting edge as his skills behind the computer helping the company along. Their new label is bringing some really brilliant sounds to the masses and the debut London Liquid is just one example out of the gate. It's filled with everything you need to do Liquid DnB proper and made by someone who is known for DnB and signed to labels such as Liquicity,  Ram, Viper and NCS to name a few. It's no joke of a pack bringing you some truly atmospheric and emotional keys and atmospheres while driving it home with top quality drums that make Liquid such a known genre.
Grab London Liquid here!
Mystical Sitar
OK… totally biased on this… but that's because I LOVE Sitar! It is one of my favorite sounding instruments. It's by far one of the most notorious sounds… makes you wanna grab a tea and sit crosslegged with your eyes closed and let your hair grow out into a length that is satisfactory to be labeled a 'hippie' and have the sitar become your theme song's only instrument. But no, really, with all stereotyping aside, it's the most brilliant and true to a culture instrument that you can find. When Chithrinie Nirupama came to us to do this pack it was a no-brainer that we bring her on. She absolutely KILLED IT. And she has Sitar running through her veins which you can hear in the pack. She hails from Sri Lanka but lives in the UK, and has brought both worlds together to shine on her culture in the best way possible. This pack can be put into any genre of music… like… absolutely any. Didn't I say Sitar was one of my favorite instruments? Even some country western could use a little sitar if you ask me. Yeehaw, peace and love dude!
Grab Mystical Sitar here!
and Leviathan 3 (ok… not from this year but you will find out why I added it)
We all know damn well that Leviathan series of sample packs are a beast of their own. Not just because I work at Black Octopus… but because it's a proven fact time and time again. They are absolutely HUGE A.F. I am talking gigs and gigs and gigs in size and filled to the brim with everything you need as a producer whether you are starting up or already making grammy hits. Deadmau5 has been known to use them. But who hasn't to be honest? Let's get to the point of why I added this to our top 2021 list. It's because in December we will be dropping the BIGGEST, Baddest, most prolific Leviathan EVER… Leviathan 4! Not kidding. By the time you read this list the beast may have already landed… or not… if it has, you best bet your butt that this is the must-have pack of this year… and next… and probably the year after that… just as Leviathan 3 has been for the recent ones. So, this is why I say Leviathan 3. It's been a staple in most any producer's arsenal since its release, and the ones before that were the same… but Leviathan 4? Oh boy… you just wait (or go and see) for yourself!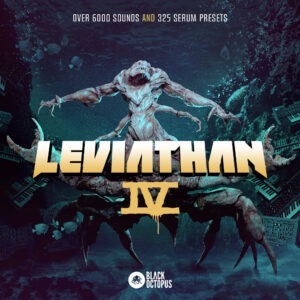 (dis)Honorable mention:
My own pack from our studio called "Drums Through The Eras by Influx Studios"… I won't talk about it or blow it up for you so that way I feel a little less shameful putting my own pack into this list… but if you like some professional drums for all styles and eras, here you go! It is a really cool one… if I might say so myself.