The official ill-esha Intonations Producer Challenge!
Showcase your skills & win some great prizes
A word from ill-esha on the contest…
CLICK HERE FOR THE OFFICIAL CONTEST PAGE FOR MORE INFO
GET INTONATIONS ON BLACK OCTOPUS SOUND
There are great prizes to be won including:
1st Place
$500 cash
Fabfilter Mastering Bundle
Leviathan 1, Leviathan 2, Leviathan 3
Ill-Esha intonations sample pack
IK Multimedia Miroslav Philarmonik 2 CE
EDMP Discord T-Shirt & 10 Stickers
2nd Place
$100 cash
Leviathan 3 sample pack
Ill-Esha Intonations Sample pack
IK Multimedia Miroslav Philarmonik 2 CE
5 EDMP Discord Stickers
3rd Place
IK Multimedia Miroslav Philarmonik 2 CE
Ill-Esha Intonations Sample pack
Leviathan 3 sample pack
2 EDMP Discord Stickers
Community Choice
1 Year of Splice Sounds
ill-esha Intonations Sample pack
EDMP Discord T-Shirt & 2 Stickers
Additional prizes to be won!
Join the EDM Production Discord community for ongoing challenges, additional prizes, feedback and hangouts with ill-esha and staff.
SCHEDULE OF EVENTS POSTER FOR THE EDMP DISCORD CHANNEL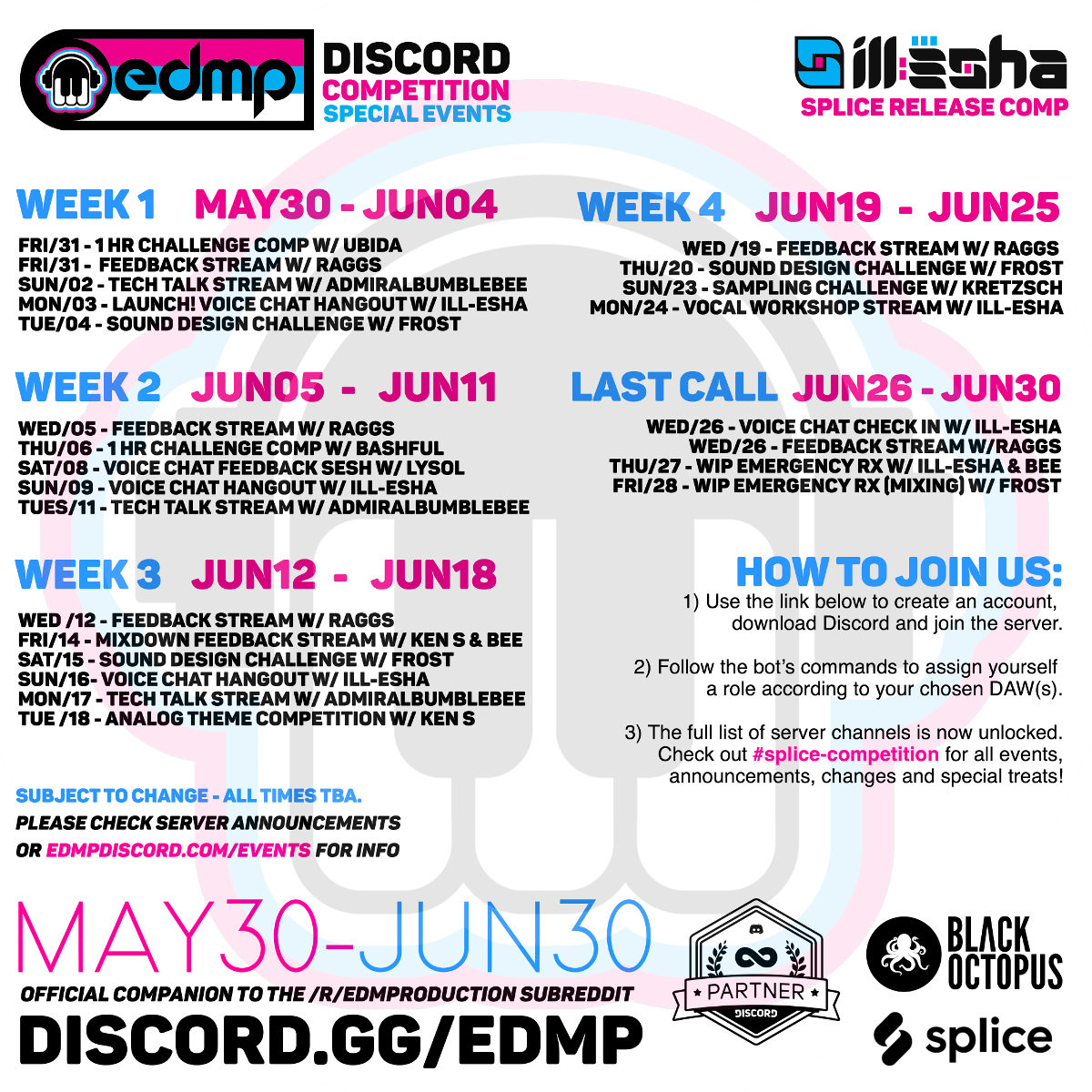 Additional Prizes to be won from the extra events
Special Prize: EDMP Apprentice
A swag bag of merch and goodies TBD
Plus:
2 Skype or Discord lessons with ill-esha
1 Music Theory lesson with lysol
1 Sampling lesson with Kretzsch
1 Sound Design lesson with Ken S
Hardware sampling with Dyce on request
This prize is about being a part of your community, and rewarding your motivation!
In order to qualify for this prize, you must achieve at least 8 EDMP Challenge Points.
1 Point – checking-in at any of the events happening at EDMP Discord. There are a total of 24 scheduled events.
2 Points – Submitting an entry to any of the challenges.
5 Points – Winning one of the challenges.
Schedule -http://edmpdiscord.com/events
The winner will be chosen from the list of qualified entries as voted by the staff of EDMP.